People use to bookmark websites online. With the progress of Google Chrome and Mozilla Firefox, they have the option for native bookmark syncing. For those who use a lot of bookmarks using Google, it is very difficult to manage and have access to all the Bookmarked sites. For this, there should be a third party application that would help to have access to their bookmarks and manage too.
Fess Google Bookmark extension is developed so that you can manage your bookmarked sites in Firefox browser access very fast. This extension helps you in managing your bookmarks too much in Firefox toolbar.
How to have this app in your browser 
This is an add-on and you can have the access to it by searching it in the extensions or you could have directly installed it in your browser by visiting Fess Google Bookmarks. A screenshot of the page which will be opened is shown below:

How to use this app
Once, you see this click on "Add to Firefox" and then follow. It leads to have it installed in your browser. The moment you have installed, you will see a hallowed- gray star appeared on the Toolbar. A screenshot of that extension is shown below: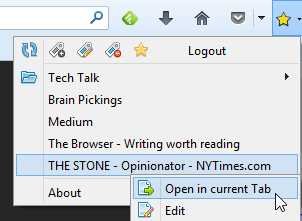 Here, we have three options in the uppermost row of the above image. They have different works of their own. Their works are shown below:
Add: It is used to add the new bookmarks.
Edit: Is is used to edit the existing bookmarks.
Delete: It is used to delete the existing bookmarks.
Other Gold Star: On clicking this it will lead you to open your Google account. It can be used to open your account and add your personal bookmarks there. Once you will come out of that, you just have to click on the Log out option shown in the row itself next to other Gold star icon.
You can go through the above process, or you can just click on the first option which tells add a bookmark to the current page. When you click on this icon, a new window will pop-up. The screenshot of this is shown below.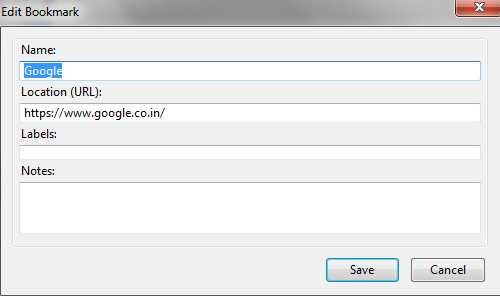 Various options are listed above in the Edit Bookmark window. Each space has its own meaning.
Name: indicates the name of the page.
Location: indicates the URL of the page which is opened.
Labels: you can describe it like in this I would say it as Search Engine. It depends on the person how he/she uses it.
Notes: you can write some notes about this page in the free space.
Once completing the spaces, click on the Save options.
Using Fess Google bookmarks extension, you can manage and enables all your bookmarks right from the options menu. By right clicking on the label and then selecting "Add bookmark here" you can add a webpage to it. If you are willing to edit this, just click on the edit options and then edit it labels. Note that it will automatically sync itself with your Google Bookmark account. This extension of Google Bookmark can be used for more purposes as well besides the above mentioned. Some other uses are written below:
It can be used as a comprehensive tree-style structure and detailed sorting options on the addition of certain features.
It could also be used to sync with the native Firefox bookmarks.
Overall, this is a very effective and handy extension.