Password Padlock is a free app for windows 8 using which you can manage all your passwords safely and securely. You can set a single master password using this app which can further encrypt all your other passwords. However, there is one problem and i.e. you can't store the master password and if you have stored that this app could safeguard all other passwords. You can restore the passwords stored in this app through SkyDrive or by other computers. This app also comes for Windows Phone.
This app is a kind of password management app that can manage and arrange your passwords in a very efficient and proper way. The interface of this app is very simple and user-friendly. A screenshot of its interface is shown below: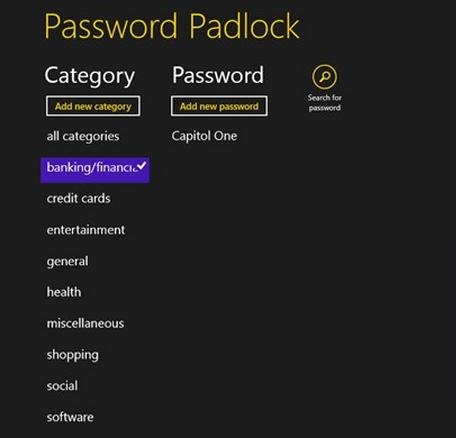 How to manage password using Password Padlock app
Once you have installed this app on your windows machine, you will find a new screen asking to set a new Master Password when you can run this app. When you set your Master password, a similar image like the screenshot shown above will appear on your screen. Here, you can see two columns one showing the different categories present here. The other one is related to adding new Password. When you click on Add new password, a window will pop-up like the below-shown screenshot. You can set the different options present here:
You can see in the above screenshot that you have to fill up the blanks to set a new password for any category. You should also note that this app can generate a Random Password for you. Isn't it great. Once you fill up the different blanks like the Used ID, Password, URL, etc. you can upload directly this to your SkyDrive. You can also download passwords for any category from SkyDrive if you have already stored the password here. This app also lets you search any password by just typing its name.
Salient-Features of Password Padlock app
It allows you the feature of 

Encrypted password storage.
You can upload or download passwords to SkyDrive.
It gives you a randomly generated password to you for use.
You can search for any passwords by name.
You can also use this app to share your personal data with windows phone.
How to get Password Padlock app
You can have this app installed in your windows machine by searching it at Windows 8 App Store or else you can directly visit its download location and grab it from there.
Conclusion
Password Padlock is really a very nice and wonderful app for us. We can store all our passwords and that too at a safe and secure place. According to my opinion, this is really a must try app. However, you must make your Master Password very strong so that it cannot be accessed by anyone.