For all the Sports car lovers out there, what can be better than setting the McLaren Senna Track Theme for Windows 10! You can customize your desktop with the stunning wallpapers having 10 high-resolution images paying tribute to the legacy of Ayrton Senna, known as one of Formula 1's greatest racing drivers. The Theme is available absolutely free in Microsoft store for the computers running Windows 10 version 14951.0 or higher.
You can download McLaren Senna Track Theme for Windows 10 easily in few moments. We look inspiration or some source of motivation everywhere around us, don't we? We sure do. Setting the McLaren Senna Track theme might be one of that for the ambitious ones out there. It might be a constant reminder to step your game up, at the same time, giving your PC a hardy- even 'boyish' if you so are willing to call it- look.
McLaren Senna Track Theme for Windows 10 (Sports car)
Here is how to download McLaren Senna Track Theme for Windows 10 –
Step-1: Follow this link to directly reach Microsoft's official page for the McLaren Senna Track Theme.
Step-3: The Microsoft Store window will open; select Get there.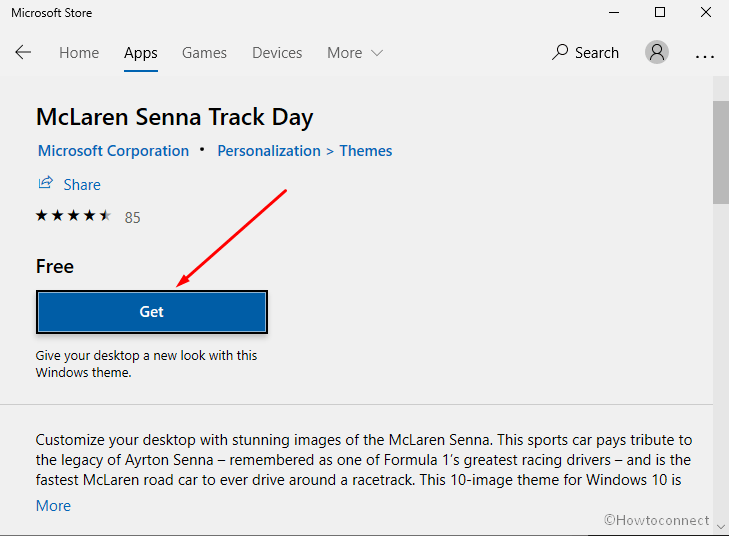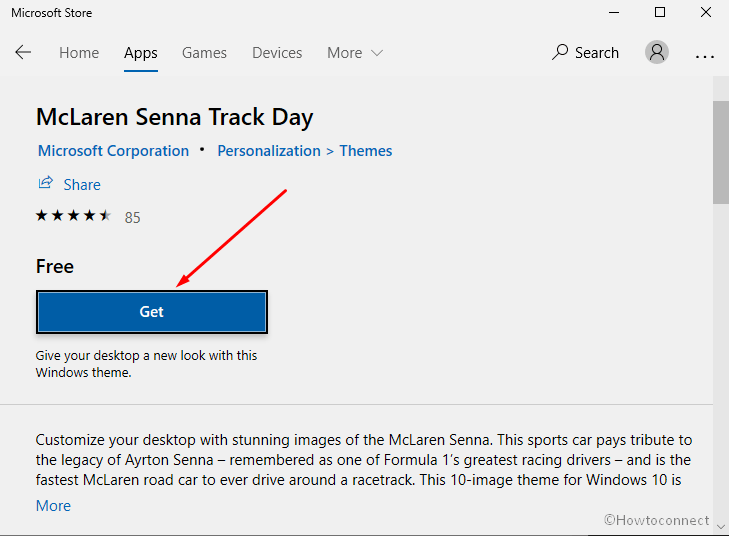 Step-4: After the theme is downloaded and installed you will receive a notification. Click on the banner which will take you straight to Themes Settings page.
McLaren Senna Track Theme for Windows 10 is located in Themes of the Personalization category of the Microsoft Store. So you can search or browse the app directly here. Simply Open Microsoft Store, Type McLaren Senna Track and then click on the result from the drop-down.
Set the theme
Step 5: Click on McLaren Senna Track Theme.
Note that McLaren is the fastest one road car to ever drive around a racetrack and it looks dashing. When you use the High resolution wallpaper of this you will definitely enjoy a sporty feel.  The app was released on 11/05/2018 and your device must meet the minimum system requirement to open this product. Your Windows 10 version must be at least 14951.0 to get the best experience of the theme. The architectures which the app supports are X64, X86, and ARM.
That's all!