MetroCupid is a free Windows 8 App that is designed for OkCupid Client users. This is developed by Microsoft keeping in mind the users of OkCupid. This app lets its users use this for accessing their okCupid account for searching someone, see new messages which come to you from your friends, the visitors to your profile, matches as well as favorites. This is a client app of popular friendships, dating, and social networking websites. You could also use this app to see your profile, send your friends pics and messages. It works fine without any bugs or errors on your windows machine.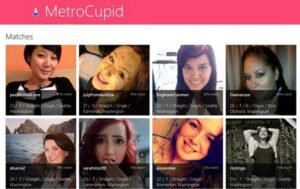 You could launch  OkCupid client app from the link provided at the last of this post or Windows charm (Win+C) settings to search for it. You could also look for it under the Social Category in Windows Store.
Things to know about OkCupid client app
After the completion of installation of this app properly on the Windows machine a window will pop-up like the above shown screenshot. But, before that you have to login. You have to use your OkCupid account name and password here in this app. If you don't have an account there, you could create one using this app of windows 8 for free. On this home page of this application, you could see a number of categories inside which you could see a large number of people's profiles with beautiful faces floating with a little description about them like their name, age, sex, location, etc. Clicking on each label navigates you to that label screen. Showing it's contents (members). Simply click on the member, whom you want to talk to or view their profile.
These different categories on its home page are Matches, Favorites, Inbox, Sent Messages, Visitors, etc. Entering into any Member's profile screen you could see their information and view their photos. Flyouts from the bottom could also be brought using the right click on the screen where you have options like Save to favorite and Message. 
Note:
The matches screen refreshes frequently which gives a lot more options to match. You could see a number of matches by clicking on the matches label on the main screen.
You could refresh the matches yourself by clicking on the refresh option which comes on the flyouts when you right click on the screen. You could also clear the selection made by you. There are other options too here like: Pin, Remove Favorite and Message.
The messaging feature of this app is appreciable as it is very handy in connecting to a person. It needs nothing more than typing and then pressing enter.
Key features of MetroCupid app
Fully Free Application.
Nice Windows 8 OkCupid client app.
Very Impressive Interface which you can use easily.
View your OkCupid messages, visitors, matches, and favorites.
Get Notification on receiving new messages from your account.
Messages could be sent easily to other users of  OkCupid.
You can see your Conversations could be seen in detail.
Favorite other OkCupid users and delete your OkCupid messages.
View OkCupid profiles and photos.
Pin OkCupid users to the start screen to quickly navigate to them.
My Opinion
MetroCupid is a worth trying app as it lets you use your OkCupid account in your windows machine in a quite easy and smoother way without any bugs and errors. This app is quite satisfying and appreciable. Some of the features are available there on its official website are missing here like: uploading photos option etc. Windows charm settings work well here in this app but not so effectively as it takes sometimes in searching people which is not the case in its official website. Overall, this a good app to try your OkClient account here.