CamMo is a free windows software that could be used to make the recordings with the help of your webcam. It is based on motion detecting feature. It is used to make videos based on motion detection i.e it could work only when it detects someone actually present in front of this app. This app can be used with any webcam which publishes a JEPG stream via URL. This software could also be used to get notifications via email. It could be done by pre setting this free web camera so that if it detects any kind of movement, it will record that and notify you.
The User Interface of this app is kept simple, with just the one menu in the top left corner and with a preview area underneath it where the image from the selected web camera can be previewed. The developers have made sure that recording would be done in a more elegant way so that one could see what has been recorded by it more effectively. A screenshot of its interface is shown below: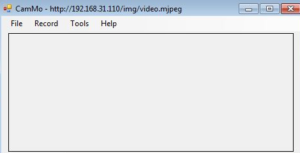 You can have the access to this software from the link provided at the last of this article. How to use CamMo app
After the proper installation of this software, you could open this app from its icon. A window like the above shown screenshot will appear on your screen. In the left corner, you could see the address which indicates the location of the webcam which you are going to use to record the stream. You can get to know all the other options as well by opening up the menu.  Here, you could see recording preferences, motion detection settings and server info of the SMPT powered email provider that you'd like to use for email notifications. You could use this app for recording a stream when someone is standing or moving in front of your camera. However, you need to have a proper web camera to do this. You could follow the below-written steps to do this type of recording.
How to record stream based on movements through CamMo on Windows 8
At first select Tools. After then go to the Options to configure whether all the parameters are set in a proper way for a recording. There are different tabs present here at the top which could be used to adjust camera, recording directory, motion detection, email information, and many other things that need to be set up before a proper recording. Once you are done with different settings option you could click on OK and from the main menu select Record and then Start.
Once you have pressed the Start button, it will start recording as per your pre-set configurations and then put it down on your download directories.
Key Features of CamMo 
Everything is very easy to setup and configure in this app.
Free of cost application.
Allows Preview of webcam.
Supports all types of windows whether it be XP, Vista, 7, 8, etc.
Offers notification of emails while the recording has started.
Older Recordings are deleted automatically after a certain period of time.
Stream recording with optional video cutting which splits video size.
Detects and starts recording only when motion presents using its motion detection feature.
 Note: It requires a webcam that supports JPEG stream via URL. Conclusion CamMo is a nice web camera motion detection application that lets you easily make recordings using your webcam when you are not around your laptop. You could also see who enters your room, uses your laptop, or whatever he or she does whenever you are not in your room. This is worth trying the app for all types of users.
Link: http://www.softpedia.com/get/Internet/WebCam/CamMO.shtml