Microsoft has released Microsoft Edge Dev 77.0.218.4 build. Previous week Canary channel got some new features and they are is now the part of this build to Developer. Moreover, they have now turned on multiple new languages on the insider website and added an Enterprise page with offline installer and policy samples. In addition, they have also fixed a few reliability and behavior issues in the insider browser.
To get Microsoft Edge Dev 77.0.218.4 Build, go to Settings and more (Alt+F) > Help & feedback. Click on About Microsoft Edge in the sub menu.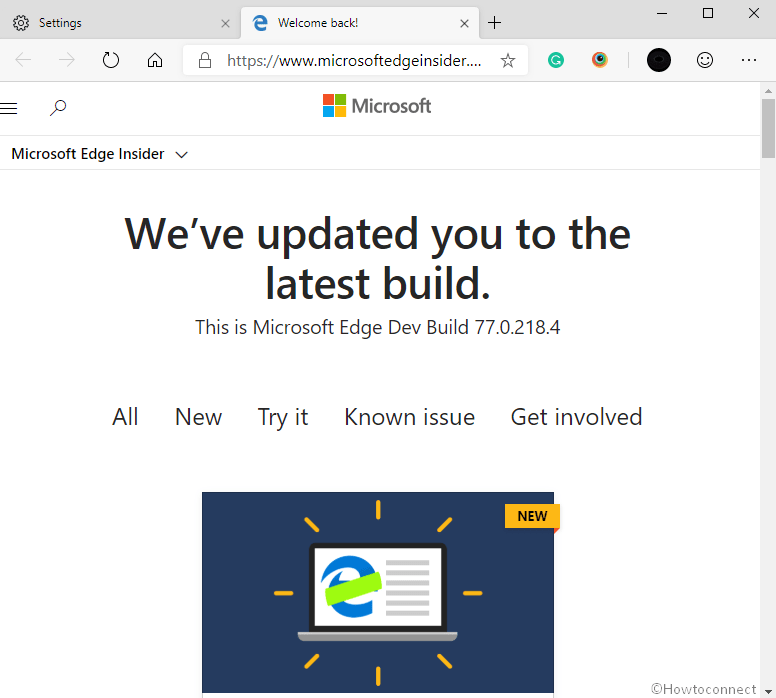 Microsoft Edge Dev 77.0.218.4 Build Highlights
New features and behavior –
Added more strings to the translation work
Prevent IE-Mode in Application Guard containers
Ability to set text size and background theme in Reading View is now under flag.
Ability to use dark mode on downlevel Windows versions 7, 8 and 8.1
Search box now clears content with Esc or "x" button
Fixes for improved reliability –
Microsoft Edge Dev 77.0.218.4 Build fixed a crash on the Extensions page.
Fixed a crash in API keys
Also, fixed a crash while opening PDFs
It fixed crash in Sync service
Fixed crash due to cached call in the renderer
The browser Fix deadlock in Windows, where Microsoft Edge blocks shutdown.
Fix crash in JSON parser
The channel now fixes for improved behavior:
Fix preventing URL redirection in Application Guard.
The Dev channel fixes to prevent the creation of the database until needed (performance)
Subpage headers display the number of search results.
Fix to close Profile UI on sign-in
Dev Tools support using OS theme color on Windows 10
Fix color contrast for selected favorites
The Developer channel fixed Copy / Paste keyboard shortcuts on macOS
Fix for z-order on the history page
Microsoft Edge Dev 77.0.218.4 fixed transparency issue on First Run Experience
Strengthened launching logic for PDF to specified file names and paths
It fixes to show FavIcons in Favorites management page.
Fix for account removal in Identity
The browsers Fixes for sign-in where account pop-up was not the topmost window.
Fix for data imports from Chrome and Edge during First Run experience.
Source – Techcommunity.