myHomework is a student planner Windows 8 app for students to manage their tasks in an organized manner and complete it in the given deadline. myHomework app has categorized the homework in different segments that suit your need. It can come handy when you have loads of assignments and exams coming ahead of you and you want to keep track of them to prepare early. myHomework app is free and does not consume much space on the memory disk of your Windows 8 device.
The interface is like any other task manager where you can organize stuff by writing them at a particular section. The controls are very simple and intuitive. The overall interface is user-friendly and you just require a Windows device to run it. myHomework app is available at the Windows store and can be downloaded from there. Once you have done that you need to install it on your device and click on the icon to launch it. The screenshot of the main screen of the app is shown below.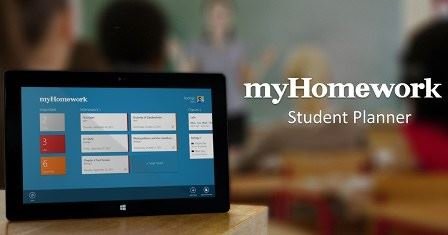 A link has been provided at the last of this article from where you can have the access to myHomework app.
How To Use myHomework app for different purposes
The above screenshot shows your classes and assignments that are due or upcoming. You can see that there are different sections namely homework, classes and exams that you can bring up by just swapping a bit. Now to add a homework you have to click on the Add Homework tile at the right bottom corner of your screen and then you can enter the details of it. The homework gets arranged by late, upcoming, future and complete so that you can keep track of them. If you have also joined a teacher.io class then you can view the announcements and every other information that gets displayed on its page.
Similarly, you can also add different classes like biology, chemistry or any other and arrange them in the section to keep the record. There is an option of synchronizing your work on myHomework app with the iPhone, Android and kindle to get it on that device. So now you can share or store it to see it from other devices. Also, there are different viewing modes of your work namely semantic and snapped view. You can also search for chapters from the main search of your windows device. The working is quite simple, and these are essentially the only things that you need to know to get on with this app.
Key Features Of myHomework App
Tracking classes, assignments, and exams by organizing them.
Receive homework reminders and alerts.
Sync with other devices to see them.
Download class material from teacher.io class and stay ahead.
Live tiles, snap and zooming mode enabled.
Conclusion: myHomework app can work as a good planner to handle your assignments and other academics related stuff so that you don't have to work for it in a hurry. When you manage your task it gets easy for you to execute and myHomework app can definitely help in this regard. The app can be used by school students and college undergraduates as well as teachers to plan their teaching schedule.
Downloading Link: myHomework