NOOK is an app designed for Windows 8 device that enables users to read over 1 million free books, newspaper, and magazines. For people who love to spend their time reading good stuff, they can find them here and enjoy. The app is free of cost and does not have much memory requirements. NOOK Windows 8 app gives you a totally different reading experience with its advanced features. Sample NOOK Books FREE and try any newspaper or magazine FREE for 14 days.
When you look at the interface it is much uncluttered, and you just have to swipe across the screen to get to the different sections. The controls are very intuitive, and a basic understanding is sufficient to get along with them. The NOOK is available in the Windows store and you can get it downloaded from there. After you have installed it on your device just click on the icon on the home screen of your device, and it will get launched. The main screen of the app is shown below.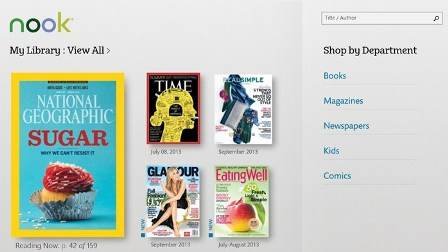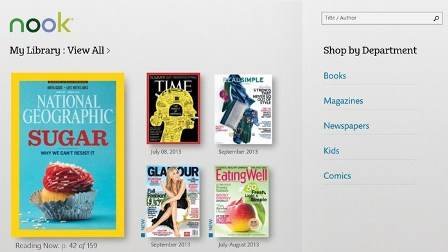 A link has been provided at the last of this article from where you can have the access to NOOK Windows 8 app.
How To Use NOOK Windows 8 App
To get access to the books and magazines you have to sign in with your Microsoft account and no new account is required. When you have done that you can search for the books in the Search tab that is present in the top right corner. Also, you can search by departments namely books, magazines, newspapers and others. The subscription for the newspaper and magazine is free only for fourteen days after which you will have to pay for it. Now when you have opened a particular book you can see the story line and the reviews in a new screen. The ratings and the price are also displayed there so that if you wish to buy you can do the same. The books that you purchase can be stored in the library where you can have a quick access.
There are a number of things that you can do while you are reading something on NOOK app. You can customize your reading experience to view in different font size, line spacing, and themes. You can turn your pages in new styles or just jump to a particular page with just a swipe. You can add bookmarks and can highlight a particular area of interest in the piece that you are reading. You can also look up for the meaning of the word simultaneously in the in-built dictionary that pops up the meaning of the particular word for you. These are the basic things features that are available for you to play with this app and enhance your reading experience.
Key Features Of NOOK App
Get over 3 million books, magazines, and books for shopping
Import PDFs from SkyDrive or from your PC
Add notes to book and highlight the text
Find words or phrases in books
Type anywhere in the NOOK app to search for the stuff in the library
Best-selling authors and best-selling magazines are included
Free 14-day trial subscriptions of newspapers and magazines
My Verdict:
NOOK is a very good app for avid readers, and they can search for all the genres within a wide range of books and other stuff that are available here. This app comes preloaded with a number of books. All the latest and interesting readings are also present that makes it a nice one to have on your windows device. Overall, NOOK is a nice app to try on your windows machine.