Nova Elements is a fantastic Windows 8.1 App to study the periodic table and the elements properties and atomic structures present in the periodic table. You will be puzzled when you launch this app on your Windows 8 or 8.1 that a periodic table can be made so easy.  This app is a perk for a student who wants to learn periodic table, atomic as well as molecular structure In Nova elements you will find a periodic table, and when you click on an element its properties will open. So you can read properties of any element through this table.
Nova Elements app not only shows properties of all elements but demonstrates how electron, proton, and neutrons action and distribution in nucleus and orbit to build the element. You can build any element on your own also. Video having description of each element in 12 chapters will clarify your concept of chemistry. Nova Elements is a perfect Windows 8.1 app for the students who want to read a periodic table.
Recommended:
Best Study Planner Windows 8 Apps for Kids
myHomework Windows 8 App – Track your Class, Assignments, Tests
How to Study Periodic Table using Nova Element Windows 8.1 App
Download and install Nova Element app from the link given below this post and Launch.
After opening the app, you could see the interface on which three round buttons exist. On the homepage of this app, three buttons are Explore, Play, and Watch.

Tap on Explore Button. You will get the periodic table.
Tap on any element to launch a pop up on the left side containing introduction and important facts of the element. Atomic number and structure of the atoms of the element are also given. On this pop up, you can see a green color Build button.

Click on Build button. You find a page where you need to build up atom of that element with the help of protons, electrons, and neutrons. Three atom shaped buttons exist at the bottom represent proton, neutron, and electron which help you to build the atom.  + and – are used to add and remove a particular particle. After building the atom click on Submit button. Submit button approves or disapproves the configuration.

Clicking on Play button. You go to the page where you will get David Pogue's Essential Elements. In this section, you see daily utility thing's images connected with their constituents on small buttons.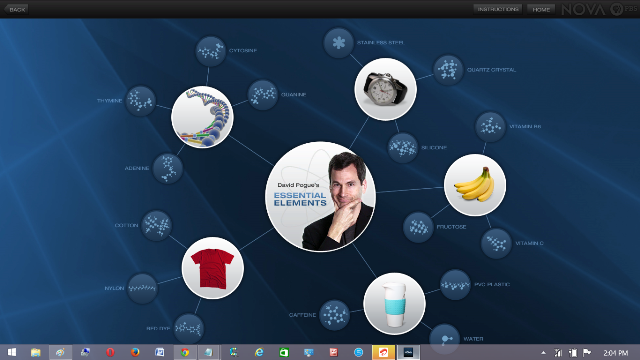 When you Tap on these buttons you will see molecular structures of those items. As for, if you click on the banana you can see molecular structures of Fructose, Vitamin B6, and Vitamin C which are constituent of Banana. Besides of these you can build up the structures of these items and submit them. These acts also assist in improving your remembrance.

Click on the button Watch Hunting the Element. It opens a page containing 12 videos in chapters. Each video presents elaborate information on the Elements. You need to only click on videos to grasp detailed knowledge of the atoms in an interesting way.
On every page, you can see Back, Instruction, and Home Buttons on the menu bar.
Back button refers to the previous page whereas Instruction speaks as well as writes what to do on that page. Obviously Home button takes you to the homepage of the application.
Nova Elements App Design
The design of Nova Element app is so cool that you will be charmed. Each page of the app is digital clear, smooth, and polished too. Navigation is very easy.
Nova Elements App Features
App is free.
Simplifies the difficult atomic structures.
Videos are much interesting.
You can create atoms on your own.
Information on daily utility items in atomic and molecular prospects.
Design is very easy and cool.
Conclusion
In my opinion, the app is a fantastic tool for the students who want to read the periodic table and atomic structure. Apart from these, they can learn through experimentation. This process simplifies the element and molecular structure so much. So you should download this app and enjoy it.