Some users are facing a login error in Microsoft 365 apps whether it is Teams, Word, Excel, PowerPoint, Outlook, OneNote, Edge, or OneDrive. The message is "Something went wrong (1001)" that appears when trying to sign in. The error mostly occurs because of problems with user's cache folders in Microsoft 365 applications. Fortunately, you can solve Office 365 sign in not working Error 1001 in Windows.
Microsoft Office 365 log in error 1001 randomly appears due to issues with OAuth credentials and the IdentityCache. Furthermore, problems with network, incorrect credentials, outdated software, or corrupted folders and files might be reasons for the situation. See: Fix Error code 0xC0070057 Office apps Sign in issue.
Office 365 sign in not working Error 1001
Here is how to fix Office 365 sign in not working Error 1001 in Windows:
Change the location of cache folders – trick
Since the problem triggers because of users cache problem in Microsoft 365 or Office 365 changing the location of IdentityCache and OneAuth folders works as a trick. Follow the steps:
Close all Microsoft apps such as Word, Excel, Teams, and other.
Press Windows and E keys.
From the File Explorer ribbon, go to View > Show > Hidden items. Check the option "Hidden items".
Type C:\Users\username\AppData\Local\Microsoft in the address bar and press Enter. (Note: change username with 'your user name' before entering).
Cut the folder named OneAuth and paste it to desktop.
In the same way, cut IdentityCache folder and paste it to desktop.
Relaunch the Microsoft 365 app in which you are getting trouble and try to sign in. These steps might already fix the login issue at this point.
If the error still persists, close the Microsoft 365 app.
Copy the OneAuth and IdentityCache folders and paste them back into the C:\Users\username\AppData\Local\Microsoft folder.
If it asks if you want to overwrite, select NO.
Again launch Office 365 and sign in. The sign-in should be working now.
Make sure that the network is not unstable
The Microsoft 365 login error 1001 might occur due to unstable network. Whether you are running a wired or wireless connection the internet might not be performing with stability so check thoroughly and correct it:
Restart the computer and router
First, reboot your PC and check if everything is fine including the internet access.
If Office 365 sign is not working Error 1001still happens then restart the router using the following way:
Power off the router and wait for at least 10 seconds.
Then turn on the device again and connect your computer to the network.
If any glitches are there, go to Settings > System > Troubleshoot.
Select Other troubleshooters.
Find Network and Internet and click on Run.
Follow if you get any suggestions.
In case, the error continues to appear, navigate to "Settings > Network & internet > Advanced network settings > Network reset > Reset now".
Confirm the prompt and wait for the computer to restart.
Connect to the internet by entering Security key.
Repair Microsoft Office 365
Corrupted Microsoft Office 365 application might also trigger the sign in error 1001. But Windows 11, as well as 10, provide a built-in tool to repair and reset the app hence move forward with the guide:
Right Click on Start and select Settings.
Choose Apps from the left panel.
Click on Installed apps.
Find Microsoft Office 365 and
Click on the ellipsis (3-dots icon) and select Modify.
On confirmation pop up select Yes.
You will come across a widow – "How would you like to repair your Microsoft 365 and Office programs?".
Check the option Online Repair and click on "Repair".
Wait for the process to complete and restart the system.
Try signing in to the app.
Reference: How to Quick and Online Repair Microsoft Office 365 in Windows 10
Disable Proxy
Proxy is another reason that might prevent you from signing in to Microsoft Office 365. Luckily, disabling this feature works and fix the error message Something went wrong (1001).
Click on Start and select Settings.
Select Network & internet.
Go to the right panel of the Settings app and click on Proxy.
Move down to Manual proxy and click Setup.
Toggle off the option Use a proxy server.
Click on Save.
Now check signing in if it works.
Read: How to Manage Proxy Settings in Windows 10.
Run antivirus scan
Viruses and threats might affect the Microsoft Office 365 app and cause different types of problems including the error code you are encountering. But, don't worry, you can use the default Windows Defender called Virus & threat protection or third-party program like Malwarebytes to deal with and remove them. See the method to run the built-in tool:
Click on Search and type security.
Press Enter to launch the app.
Select Virus & threat protection.
Then, click on the link that reads Scan options.
Check the radio button for Full scan.
Click on "Scan now". The process will take a long time so wait patiently and follow the recommendations provided in the result.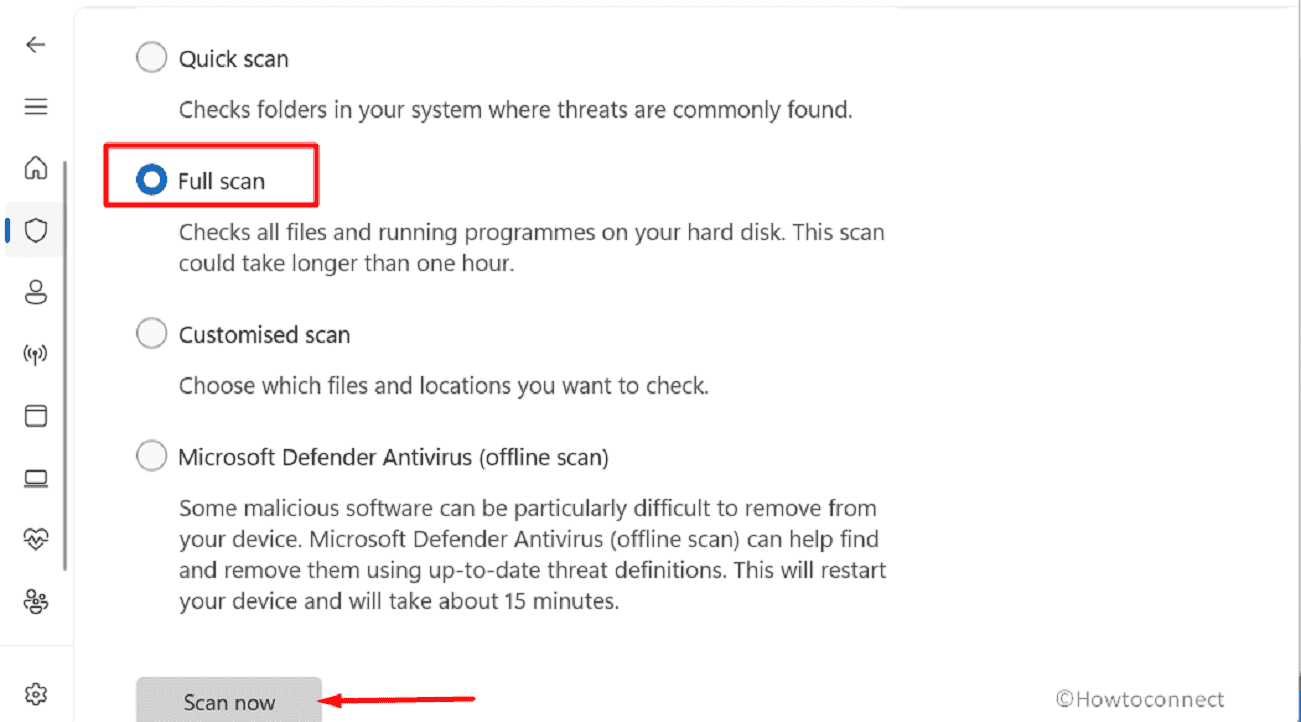 Restart the PC and see if sign in issue is fixed on Microsoft Office 365 app.
Uninstall third party antivirus if any
Sometimes, third-party antivirus creates conflicts with Microsoft 365 and causes various glitches to occur. Therefore, uninstalling the software may help get rid of the problems that are triggered during sign-in process. Follow the instructions;
Press Windows Key+I.
Type appwiz.cpl and hit Enter.
Once Programs and Features Window loads, locate the third-party antivirus program in the list.
Right click on the item and click on Uninstall.
Click on Yes if a warning pop appears and follow the onscreen instructions.
We hope these 6 ways will fix Office 365 sign in not working Error 1001 in Windows 11 or 10.
Methods:
Change the location of cache folders – trick
Make sure that the network is not unstable
Repair Microsoft Office 365
Disable Proxy
Run antivirus scan
Uninstall third party antivirus if any
That's all!!
Repair any Windows problems such as Blue/Black Screen, DLL, Exe, application, Regisrty error and quickly recover system from issues using
Reimage
.