Life Insurance Corporation of India (LIC) has offered online facility for its policy holder to pay premium. Policy premium can be deposited through both online and offline way. In the offline way, policy holders have to go at the branch office of LIC  and face difficulties during payment of policy premium because they have to face a long rush and wait for a long time. But, the online method is very easy. Policy holders can pay it from home or wherever is connected to internet.
Useful posts:
How to Pay LIC Premium Online
LIC Premiums can be paid through the Internet Banking, Credit or debit card of Nationalized and Private Banks.
Through Online method, LIC Policy Premium can be paid  through either –
(1) Without Registration or,
(2) With Registration.
Details are given below –
(1)  Without Registration –
To Pay LIC Premium online without registration press on this link
http://www.licindia.in/online_payment.htm
After going through the above link, a page will look like this –


At above page click on the option 'LIC Pay Direct' option. After this step, a page will be shown like this –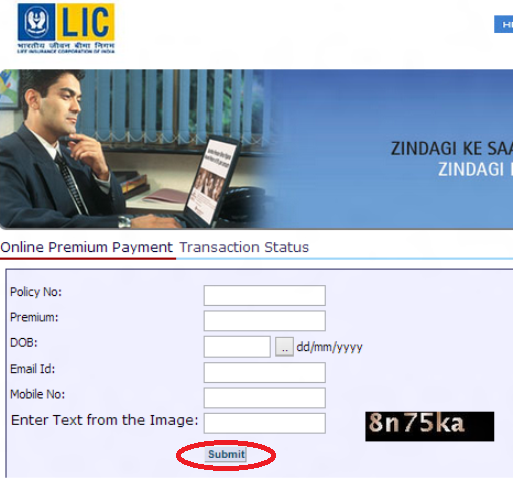 Fill all the relevant details and click on submit. Policy holder should mention their correct and valid email id and mobile number. E-receipt will be sent to policy holder's email-id.
(2) With Registration –
To Pay LIC Premium Online with registration, Policy holders have to follow the below written instruction —-
(I) Log on the official website of LIC through this link —
A page will be displayed on desktop like this –
Click on Online Services if you are the registered user, or for sign up click on New User button. After pressing New User option.
Fill all the details like  Policy No., Installment Amount, Date of birth and Email id and hit on Proceed.
After this step, create your user id and password and login your account after pressing the option Registered User –
(II) In next page, Insert your Username and password and press on 'Go'. –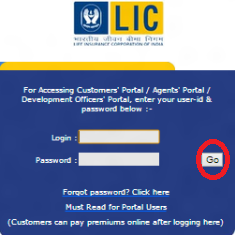 (III) After this step press on the option 'Pay premium online'. Now you can view a list of your policies whose premium is due. Here, you have to choose the policy for which you want to make online payment of premium.
(IV) Now, you should select the Bank name through which you want to pay premium and have internet banking facility. After choosing your bank, you will reach the login page of the relevant bank.
(V) After above step, you should login your net banking account with your user id and password. After logging in, you can see the due amount of your premium which has to pay.
(VI) After successful transaction, a message will be displayed. You should verify your balance for confirmation.
(VII) System generated E-receipt will be sent to your e-mail id.
In Online payment system, you will not be charged any extra money for this service.