Pic Stitch is a Windows 8 app that users can use to combine their photos in a beautiful collage and make them livelier. The app is essentially a photo editor that takes multiple photos as inputs and then systematically organizes them into a set format chosen by you. For people who love to make changes in their photos and give them stylish look Pic Stitch app gives them the choice to do it in numerous ways. The app comes at a small price of about 2 $, but a trial version is available to see if it's worth buying and suits your purpose. Earlier we have written about Flip Saver Windows 8 app to make animated collages. You can also try this.
Talking about the interface it is very simple and similar to the photo editors. You will find simple control buttons and easy-to-comprehend process for editing. Pic Stitch app requires Windows 8 as a must to run it. You can get it downloaded on your device from The Windows store followed by its installation. Having done that you can launch it from the icon on the main screen of your Windows device and then a new interface pops up which displays the following home screen of the app.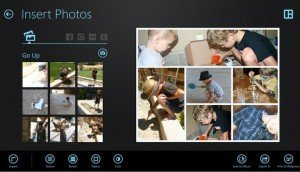 You can have Pic Stitch app from Windows 8 Store or from the link provided at the last of this article.
How To Use Pic Stitch Windows 8 App
When you look at the above screen you get an intuitive idea about what has to be done. The inserted photos title explains it all. To make a collage in the editor you have to import the photos from your device into the app. For that, you can browse the folders in your device where you have all your photos stored. Once you have imported them you can select a frame that you want to use for collage structure.
There are a number of frames that are present with different aspect ratios and formats. At the left corner, you can see that you have four options namely texture, border, radius, and color that you can use to edit your photos in the collage. On the other side are the options to save, export and print to Walgreen which are self-explanatory. You can move your photos in the tiles of the collage format in whatever way you like and when all is done you can save it in the app or can export it to your Windows device for other uses. You can use stickers and share your collage on Facebook, Twitter and other social networking websites.
Key Features Of Pic Stitch App
Free of Cost App
About 230 different layouts for photo editing.
13 different aspect ratios to choose from.
Export directly to Facebook, Twitter, and other sites for sharing.
Customize your own collage.
Amazing photos and advanced filters to give high resolution photos.
Easy to use UI and compatibility with tablet and desktop.
Final Verdict Pic Stitch app is very useful in the sense that it makes collage making easy which most people prefer when they are sharing their pics. There is so much more than you can do with the vast variety of features as aspect ratios, layouts, and effects with simple handling. Pic Stitch is a good app to have on your device.
Downloading Link: Pic Stitch