Khan Academy is an app designed for Windows 8 that brings several video lectures and materials on a wide range of subjects from K-12 and other topics of interest such as astronomy, finance, and others. The video lectures come directly from the Khan Academy website which is the owner of all the materials. It is a free educational app and does not require much space in your device. You can watch and even download videos from different sections with ease.
Moving to the interface, it can be said that being an educational app it does not incorporate any sophisticated controls and rather comes with easy handling. Khan Academy is a user-friendly app with an intuitive interface. The app can be downloaded from the Windows store followed by installation. Having done that you are now ready to launch the app from the main screen of your device. After this, you will be directed to the interface of the home screen of the app. A snapshot of the screen is shown below.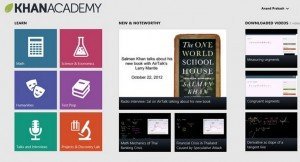 You can access to Khan Academy app from the link provided at the last of this article.
How To Get Started With Khan Academy App
Khan Academy is a very popular source for the student section as video lectures from almost all the different sections are categorically displayed in it. The app does the same thing in its interface. In the above screenshot, you can see different subjects namely Maths, Science & Economics, and Humanities with many others are present in the tile format. You can search for the subjects or topics that you wish to learn. To see a video lecture you just have to click on the subject or topic and the videos related to it will come at the interface. Upon clicking on the selected video it will start streaming in a new interface where you will also find an option to download that particular video.
There are two more sections on the main screen which go by the name New & Noteworthy and downloaded videos. New & Noteworthy has the collection of important and recent video lectures that are uploaded on the Khan Academy main website. The downloaded videos show the video lectures that you have downloaded in a list format. Whether you want to learn about statistics or mechanics there are a whole lot of videos on each topic. Apart from academic lectures, there are videos on interesting stuff that you might want to know and increase your knowledge.
Key Feature Of Khan Academy App
Search and watch thousands of videos with touch optimized experience.
Download videos for future reference when you go offline.
You can share the videos using Windows Charm.
Bugs are fixed and log in improvement in updated versions.
A Widely used app for academic purposes.
Completely Freely available app.
Very Simple and easy to use interface.
Final Note
Khan Academy app works very well and the videos are streamed without any interruptions causing minimal annoyance. It is very easy to navigate through the lectures. All the lectures are organized in appropriate categories. You can save videos when you don't have an internet connection thus enabling you to learn more. It is a must app for students who wish to learn more in an interactive mode with the video lectures.
Downloading Link: Khan Academy