Google Drive is an admired online storage service to store and share documents with the help of Google account. It also helps you to store all types of media files like music and video. Once you uploaded a complete music library or full-length videos on your Google Drive account, it is easy to share with other friends. For those Google users who love music in the form of a hobby or career, Google services have introduced a helpful extension. This chrome extension is named DriveTunes that helps you to play music in your Google Drive directory.
Tips for How to Play Music in Google Drive with DriveTunes Extension
At first, install the DriveTunes Chrome extension on the chrome browser using your Google Drive account.
After installing the extension, launch the Google Drive interface.
Now select the music files or folders that you like to play.
If you wish to play more music files at a time then tick the boxes beside the file name. Next, right-click on the music file and select open with option. Then select the DriveTunes option from the list.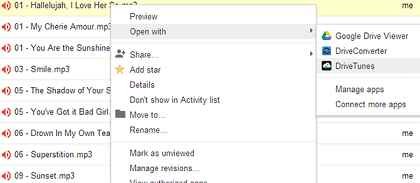 Note 
If you don't notice the DriveTunes option in the list because the selected music file is not supported by the extension.
While you click on the DriveTunes option, a new chrome tab will load with the music files you have opted. A playback control bar is also found on the top side in the tab. This bar places music control buttons – Play/Pause, Next, and Volume.
After clicking on any audio title in the list, it will begin to play automatically on your Google Drive account.
Remark –
Ensure that you are using a high-speed internet connection (Broadband, 3G) for continuous playback.
A left panel of Google Drive interface shows three modes to sort out the selected playlist.
Selected – This mode is used to view only music files that you have selected earlier. You will get this mode by default.
My Drive – This mode is used to view audio files that you have uploaded to your Google Drive account.
All Music – It helps you to view all types of audio files in your Google Drive account. By default, you should arrive at the selected tab.
On the Google drive playlist page, you will get two buttons (Repeat and Shuffle) on the bottom left corner and a Search bar on the top right panel. The playlist page is categorized in such columns (Title, Folder, Date added, plays). The Plays buttons specify the number of times a music file was played.

Another method of accessing the DriveTunes extension, launch a new tab and looking to drivetunes.org. Make sure that you have to be logged with your Google Drive account before doing this. Then a new tab will open to your music file's playlist automatically on the screen.
At present, the DriveTunes extension supports MP3 and M4a, FLAC, OGG music formats by default. Keep in mind that you can only play music here and there is no option to download them.