Stereo is an audio player for Windows 8 that enables a user to play local audio files stored in their devices with ease and comfort. It runs very well without any lag in the background. For all those times when these kinds of apps came at a cost for any other platform, it is now free and you can enjoy your music free time. Stereo is a totally free Windows 8 app.
The interface of this app is kept simple and is designed based on Metro UI style with easy tools. It looks very attractive and you will feel a lot of new and exciting things inside this app. It does not require much space of the memory of your device and works efficiently. set eyes on the screenshot underneath: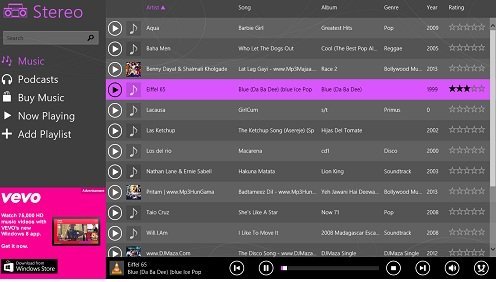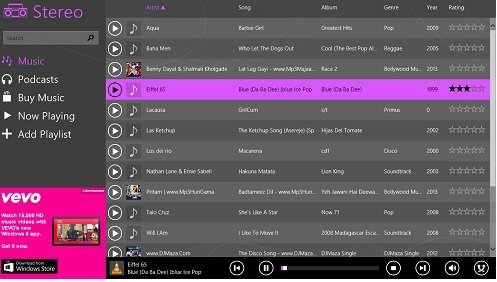 You can install this app from the Windows 8 App Store or you could download it from the link provided at the last of this article.
How to Play Music from Local Audio Files with Stereo on Windows 8
Once the installation is complete, you can follow the below-mentioned steps to get on with this nice application. Run this app from its icon present at Metro UI. The best thing about this app is that you will automatically see the audio files present in My Folder and you don't need to put an extra effort to add these tracks to the library. The screenshot shown below has a Search bar towards the left side and the list of songs on the right side. Below Search bar, there are few tabs present. The tabs working is described below.
When you are looking to bring all of the songs present on your device this will help in browsing them and adding them to this music library.
Clicking on this tab will take you to the DRM podcast stored in your library on your Windows 8 device if any available. In case there is nothing similar it will display the message no podcast could be found.
Buy Music: You can buy top tracks from the online stores using this functional tab.
Now Playing: It displays the song that is being played currently in this app.
Add PlaylistYou can make your own playlist by choosing specific songs of your own like and putting them together to hear your favorite music uninterrupted. Any number of playlist depending on the genre can be created.
Playback controls are present on the bottom right of this app. You will find next (Right faced arrow), previous (Left face arrow), Stop, fast forward and replay. An interesting feature of this app is the display of song details when you minimise the app and control volume by the Window 8 volume control button. So now you can control the playback when the app is minimized and you are controlling volume. When the app is not running the volume control does not display this feature.

These are all the features you need to know to enjoy this Stereo app on your Windows 8 device.
Pros: 
Manage playlist (create, delete and add songs)
Shuffling songs.
Free of Cost and very simple and easy to use.
Music Library autoloaded.
It continues to run even if you change the background.
Songs can be sorted by Artist/Song/Album/Genre.
It can detect the missing files automatically in the playlist which allows you to add or remove files at any time to or from the Playlist.
It fixes the miscellaneous bugs.
Cons:
It doesn't support DRM files.
There are Ads coming while the music is played. It needs to be upgraded to get rid off Ads.
Conclusion
Stereo is one of the best music PlayStation. You will love this app once you use this app for listening to the music and its feature of adding music from any file just by right clicking on the folder and clicking on "Include in Library". it handles the file association in a very remarkable way. Below provided is the link from where you could access this app.
Get Stereo Player