Doodle God is a free windows 8 game app that would tell you about creating a new item with the help of existing items. The created item could be a living or nonliving depending on the person who is creating it. The created new element could be similar to that of the individual categories or a new category. The basic categories which you will find here are Fire, Water, Air and Earth. As this game consists of topics from chemistry and biology, it tests your basic knowledge on these topics. Thus you could get to know about what you were taught in your high class on both subjects. This is a simple and easy to learn Doodle God game.
The interface of this Doodle God is simple and very attractive. Designers have used right proportions of color while making this app. The background theme is just amazing. A screenshot of this app is shown below: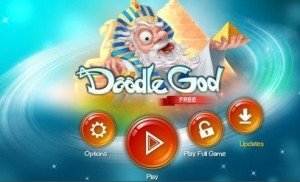 You can have the access to this app from the link provided at the last of this article.
How to do various things inside Doodle God app
The motive of this game is to provide you the power of creation in your hands. You will be first taught on how to create basic things using the available items. If you do the right combination, it would provide you the power using which you can purchase any hints, frames, etc. This power is called Mana here on this app.
The whole game is divided into four parts which are explained below:
Main Game: It is the main part of this game which makes this game popular. Here, you will act like the Almighty God who will start creating compounds out of the existing elements. It could also be explained by creating beautiful things out of the existing things surrounding you. Here, at first you have to try with most basic elements and combine them together. If you combine in a valid way, you will get a compound and a Mama (already explained above). It consists of four distinct levels. All you have to do here is to create new items and fill the empty slot under each category and thus complete each level to reach the next level.
Quests: This part consists of 6 different sub game types. Its gameplay is similar to that explained in the above case i.e forming a valid combination and fill the empty slots to reach out to the maximum levels of this part. The only difference exists between this and the above one is the story behind the gameplay.
The rest two part i.e. Puzzles and the Artifacts are played in a similar way as it is explained for the two parts just above. The main concepts remain the same, the thing which differs is the background story and the number of levels which you have to complete any part wholly.
For combining any two elements, let just simply click on the elements one after another, and if it's a valid combination, then the clicked items get combined. This is the gameplay. This is it which you have to do in the whole game.
Key Features of Doodle God App
Free of cost.
Fantastic background Music.
Create 300+ advanced items and concepts.
Numbers of interesting, joying, and thought provoking quotations as well as sayings.
Intuitive interface with good graphics.
Mold fire, wind, earth and air to create the Universe.
Intuitive and one-click game play that encourages thoughtful, creative play.
Lightweight game.
Integrated with windows charm settings.
A new element could be created using two existing elements.
Conclusion
Doodle God is a nice and interesting game which you could find in Windows store. Initially, you will love this app because of its lovely hand drawn graphics, lovely background music and funny dialogues. The gameplay of this app is awesome. Like the other normal lightweight games, you would also tire up with this game as the time proceeds. You will surely get multiple items which would entertain you to some extent but will be fed up with this app. It is a worth trying app if you are willing to have a small game which would entertain you for sometimes.
Link: Doodle God