Google has added an option Add to homescreen in Toolbar menu in Beta release of Google Chrome 31 for Android. After this advancement you will be able to add your desired website shortcut on homescreen on your Android device. Google has rolled out updates for Chrome Beta 31 for Android and made these changing. Google has also added search box in the new tab page of Chrome beta. After this update when you will launch new tab it will display most visited websites and a google Search Box.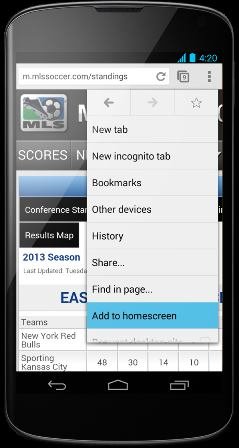 It often occurs that we want to save a website shortcut on homescreen on Android so that we could save time and effort to open our favorite website. After this act we will be able to open the website we need directly from our Android device after mere single hit. At any time you tap on the website shortcut icon and launch your required site. Certain websites will be launched in full screen mode.
Google has also changed the look of new tab page in Chrome Beta for Android. In this page now you can see most visited website shortcut in tile look and two buttons below these. One of them is Bookmarks and the second is Other Devices. Besides this new tab page will comprise search box at the upper part of the page.
All these changes are done for the purpose of decreasing the load time and saving precious time for you. People use to search there search engines first and after that they navigate to Google search page. So this variation will be comfortable as well as time saving for them.
Google often updates its products for enhancing user experience. Few days ago Google Search by image was added in Chrome Browser for Desktop users. In this sequence features for shifting tab faster for Adroid was also applied and now you can enjoy add to homescreen.