The Jump Lists furnishes you a bulk of features, amongst which, one is print. If you use to take prints of different files frequently this option is of great importance. Print option on the Jump Lists lets you take a print of desired files directly from either Start menu and taskbar and in this way, you can avoid navigating to the file location every time. Hence, in this article, we will pen down the steps of How to Print a File from Jump Lists in Windows 10.
After the advent of Windows 10, Jump lists again attend on the Start menu with few modifications (If you analogize with Windows 7). The taskbar is the platform where it has been proven handy since the earlier versions. To print a file from Jump lists has been prevailing there too. But in Windows 10 it is pretty effortless whether via start menu or taskbar.
How to Print a File from Jump Lists in Windows 10
1. Through Taskbar
Unfold Jump list.
Right-click on the file which you need to 'print'.
Select – Print.
2. Through Start menu
Click the – Start icon.
Right-click on the application you are going to print.
Click exactly on the arrow mark ahead of the application to open the Jump whose file is to be printed.
Choose – Print.
Type the name of the file and finally click/tap Save button. If you hold Adobe reader on your machine made as default for PDF files then hitting the Print carries you straight to Save as Print output dialog box. The File is saved in PDF format on the desktop moreover gets Printed as well (Determine printer is connected to the machine). Note that this is an additional feature and using the Print on Jump lists in Windows 10 you can convert any file to PDF.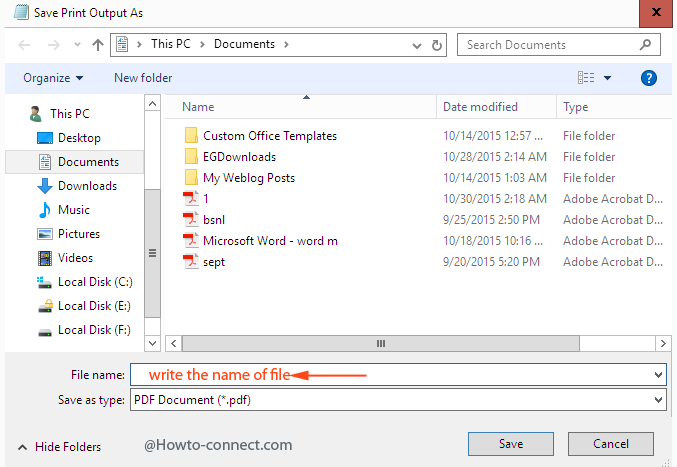 You can not only accomplish to Print a File from Jump Lists in Windows 10. Jump lists endue you to copy and edit the file straight away from there and even permits you to pin the files or a webpage. Well, for the time being, try to print a file from Start Menu in Windows 10 and definitely share your reviews.
You know the Jump lists consist of the files and program you open on your system. This means you can take the print of any file got at recently and as we think you can consistently use the jump lists in this regard to lesser your pain of going every time to the file location and opening. So follow How to Print a File from Jump Lists in Windows 10 to avoid navigating to the File location frequently disposed at either Taskbar or Start menu.