Printing Troubleshooter Windows 10 -Microsoft has officially delivered a troubleshooting utility in order to fix Printer associated problems. This Utility is efficient to remove entire difficulties occurring on the printers. First of all, the Troubleshooter traces out the real reason for the problem thereafter, fix it.
After the launch of Operating systems, Microsoft carefully tracks the response from users. When users complain about the troubles faced within the different components they launch troubleshooter. The same story is running with Windows 10. Recently, troubleshooters to fix issues in the various segment of Windows 10 are being aired. Now it is the turn of  Printing Troubleshooter.
How to Download Printing Troubleshooter Windows 10
Step 1 – To download Printing Troubleshooter Windows 10, click this particular link.
Run The Printing Troubleshooter
Before running the troubleshooter, confirm that you have switched on the Printer and rightly connected it to the computer.
Step 2 – Once the Printing troubleshooter download ends up, execute a click or hit on its file.
Step 3 – A window having the title Troubleshoot and help prevent computer problems comes on the screen. Before moving ahead, click on a tiny Advanced link at the left bottom part.
Step 5 – At the same location, you see Run as administrator link, click on it. Prior to this, ensure that the square box adjacent to Apply repairs automatically is checked.
Printer
Step 6 – Click on Printer to make its selection and hit on on the Next button.
Step 6 – Instantly, The  Printing Troubleshooter starts scanning for errors and after a little while, you can see the result.
Step 7 – Here, you notice a recommendation Make printer HP Deskjet 1510 series the default printer. In this circumstance, you need to hit the first choice Apply this fix.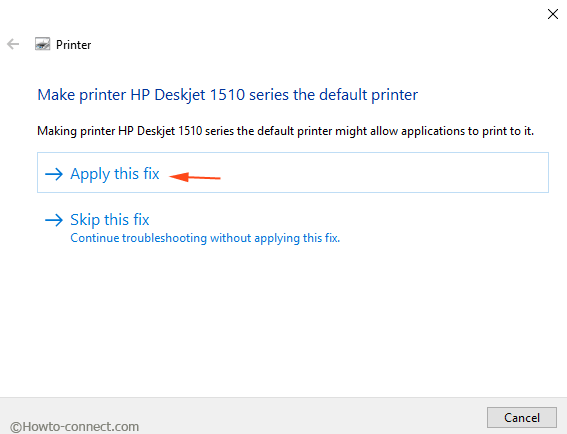 Windows Network Diagnostic
Step 8 – If Printer pertaining flaws are repaired, still the Printer produces messes, tap Windows Network Diagnostic, and hit Next.
Step 9 – See the result on the Printing Troubleshooter and follow the guidelines accordingly.
Hardware and Devices
Step 10 – If you have tried both the options and do not get success then opt for the third one Hardware and Devices.
Step 10 – Again follow the Onscreen guidelines to repair the existing Printer issues.
The troubleshooter may recommend things too, for example, you can see that it lacks a proper driver. In these circumstances, you should navigate to the site of the builder to trace out and grab a correct driver for the printer.
Closure
Since it is an official tool from the side of Microsoft, so you don't need to worry about paying a penny to harness it. Apart from this, Needless to say, that it is a lightweight application. Printing Troubleshooter for windows 10 will contribute as significant repairing equipment to overcome messes on your machines.