Do you encounter RDN/YahLover.worm!055BCCAC9FEC Infection Pop up Error on Windows 10?  The problem repeatedly blocks the Microsoft Edge browser and forces the users to call some kind of numbers provided in it. This is a serious issue with respect to privacy. Users may lose their personal files, logins, and passwords even. The browser opens normally after force system shut down and relaunches every time. Users cannot access Task manager too.
Microsoft has launched Windows10 recently as they introduced numerous amazing features to facilitate the users in different ways. As newly introduced windows, some of the limitations are coming up recently. We have received a number of complaints regarding the Edge browser. Microsoft has made it with advanced features but the errors present are temporary issues. Of the most annoying error is RDM/Trojan.Worm!055BCCAC9FEC Infection pop up alert. But thankfully few solutions are available to fix this issue but prior to this, you should take care of few things to beware of this situation.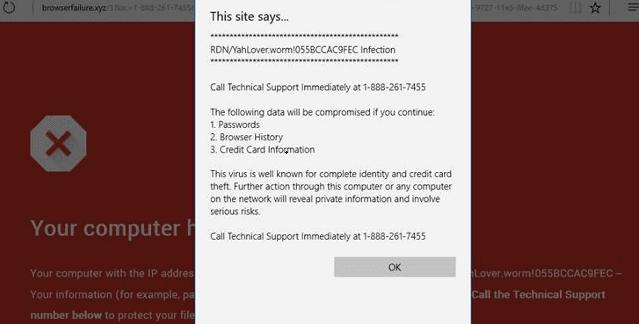 RDN/YahLover.worm!055BCCAC9FEC Infection Pop up Error in Windows 10 Solutions
Before fixing RDN/YahLover.worm!055BCCAC9FEC error pop-up in Windows 10, it is important to know what is the reason of this infection and how it works.
What is rdn/trojan.worm 055bccac9fec infection?
While browsing the internet, if you see that the screen freezes with  RDN/YahLover.worm!055BCCAC9FEC pop-up created by "web-alrt-phsng-atck.xyz" URL, you can be confirmed that your computer has caught the infection by a Potentially Unwanted Program (PUP) which is also known as adware.  This message termed as Rogue Tech-Support-Scam as it generally contains counterfeit information to frighten people and force them to get connected with a fake Microsoft certified technician.
Normally the message is caused by web-alrt-phsng-atck.xyz but in some cases, this URL may be different. The purpose of this threat is to get the information about credit card, browsing history, and passwords. Scammers force the users to dial a high priority contact number so that a connection is established with the user PC. This is a simple trick and users are warned to avoid this kind of trap under any circumstances.
How RDN/Trojan.Worm!055BCCAC9FEC pop-up infects PC
An investigation reveals that RDN/YahLover.worm!055BCCAC9FEC scam is caused by adware (software that automatically displays or downloads advertising material (often unwanted) when a user is online). Generally, these sorts of cyber threats are spreading by bundled installers. To be a little specific, if you download a third party software from an untrustworthy source, click on the quick installation setup, and then you accidentally agree to install their full package program, it might include  RDN/YahLover.worm!055BCCAC9FEC. This will inject a malicious browser extension to the Microsoft Edge and generates the unauthorized tech-support- scam alerts. Eventually, it makes the browser stuck and at the same time, blocks the operation of Task manager too. As a result, the computer screen hangs at a position.
Ways to fix RDN/YahLover.worm!055BCCAC9FEC Infection in Windows 10
Solution – 1
If the Task manager becomes rigid and you can't open RDN/YahLover.worm!055BCCAC9FEC Infection pop-up, then the solution is to power off the system by forcibly squeezing its button for a long. Restart the computer in safe mode to eradicate all the potentially unwanted programs with the help of the instructions here – 3 Ways to Boot Windows 10 Into Safe mode. Now go to the Program & features (if you have the latest build go to Apps & features). Follow the process –
Step 1 – Perform a right click on Start button and select Apps & features on the top.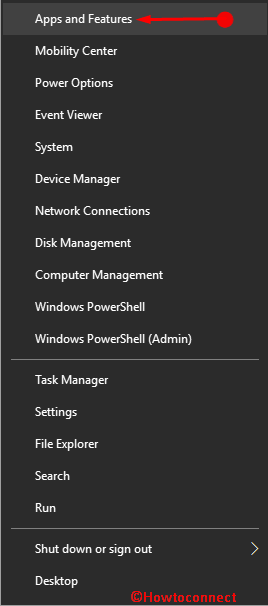 Step 2 – You will see the list of entire installed programs here. Now keenly check for the program that you installed recently. You can sort them by Date Modified to find easily. Make a click on the Unknown program, select Uninstall and follow the onscreen guidelines till the end.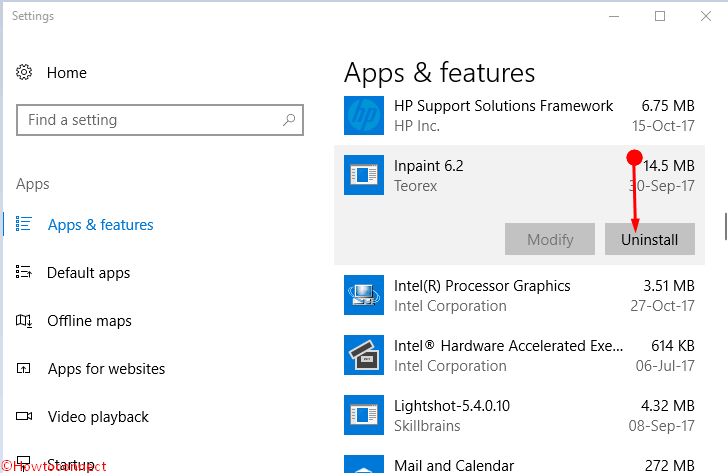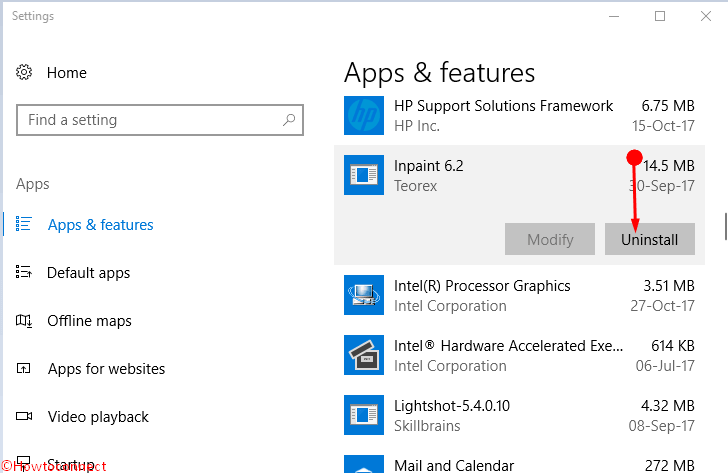 At last, come out of Safe mode.
Solution – 2
Aside from the manual solution to delete RDN/YahLover.worm!055BCCAC9FEC Infection, there is also a second way. You can use Reimage. This is a computer optimizer tool from built-in Avira Antivirus engine. It will also ensure the safe removal of leftover corrupted files from the system. When the adware is destroyed, reset the browser to terminate leftover malicious threats of RDN/YahLover.worm!055BCCAC9FEC Infection completely.
If you have called the scammers, unfortunately, terminate the adware soonest and report to Microsoft support team. Change all the passwords for Facebook, E-mails and other logged in Medias and inform the bank to change the credit card details. At the same time, run a recommended and strong antivirus to scan and delete all malware threat from your computer.
Caution to avoid this adware
Don't download programs from potentially unsafe or scam website. They are always ready to inject scripts on your computer.
While downloading, don't be in hurry but read the instruction carefully the proceed further.
Don't install extensions to Microsoft Edge browser when it is not necessary.
Schedule Scan your Computer with Windows Defender on a set interval of time. Either install a powerful Antivirus tool that gives maximum security.
3rd Party tool
You can also use Adwcleaner as an alternative to remove RDN/YahLover.worm!055BCCAC9FEC Infection Pop up from Windows 10 PC.
Conclusion
This way you can successfully Fix RDN/YahLover.worm!055BCCAC9FEC Infection error pop-up in Windows 10. Windows defender is a powerful tool so you can also use it for the removal of the scam.
Repair any Windows problems such as Blue/Black Screen, DLL, Exe, application, Regisrty error and quickly recover system from issues using
Reimage
.