Microphone Pro is a free app for Windows 8 used to record sound, playback on your laptop and upload it to the SkyDrive. It is a very beautiful app designed to listen to your own voice after recording. The feature of uploading the recorded files to the SkyDrive account just after the recording is done is a plausible and rare thing to find in any app. It saves a lot of your time as it would take time to upload the recorded file back to the online account manually.
The interface of this app is designed in a unique way making it very smooth and lag free. You will love the excellent and simple choice of colors used in this app. You can see a screenshot of the interface of this app right below: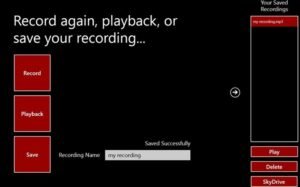 you can have this app by searching it on Windows 8 App Store.
How to use and record sound in this App
Once you have installed this app properly on your Windows machine, you will see an interface asking Touch screen to record when you run this application from its icon present in the Metro UI. Here, you will see a box showing you a Record option. Clicking on this button will open you a new window with several other options. however, your recording has started. Once you feel that you have recorded the right amount or whatever is there to record, you can just simply click on the Stop option.
Stopping recording will stop the recording process. You can playback the recorded file to listen whether you have done it correctly or not. If you haven't liked it, you can simply cancel the further process. However, in case if you had liked this you could save this recording by giving this recorded file a name by which it would be saved. On saving this, a message will be appearing as saved successfully if the file has been saved correctly.
There is always an option of recording and playbacking again. Once you are satisfied completely, You can simply upload it to your SkyDrive account by accessing your account using your login and password. Click on the save option and your file would be uploaded to your SkyDrive account. You will get a confirmation message once the file is uploaded completely to your SkyDrive account.
Key Features of this App
A completely free voice Recorder App.

Very Simple and easy to use.
Self explanatory interface with an excellent choice of colors.
You can record and save it to your drive.
Allows you to upload it to SkyDrive.
No promotion of ads here.
There is an option of playback the recorded sound.
Sound can be recorded using both speaker or microphone.
It takes a very little space of your windows memory.
Conclusion
Microphone is really a very lovable and fantastic app to work upon. As there are no advertisements here, it lets you work in a very efficient manner without any disturbance. Uploading the recorded file instantly on the internet within a few seconds is a very nice thing to those users who love it doing so. Thus, it is a must try app. you can get the access to its downloading link from the link provided below: