Recover Windows 8 Errors Screen and Death Blue Screen – I acknowledge that every one of you strives to upgrade your PCs/Laptops to the subsequent level Windows 8. But, you should be quite aware of the fact that you should only upgrade your PC  only if you have a Windows 8 compatible hardware driver. If these things are not taken into account, you may have Windows 8 installed, but with bug error and It might show Death Blue screen.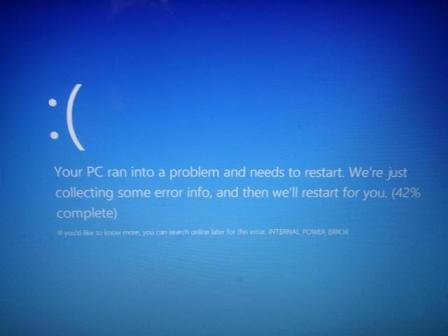 What are Blue Screens?
Blue screens are the Error Screens that is shown by all Microsoft Windows class of operating systems. This shows that your computer is having some bugs, errors or some serious issues, regarding system stability and the system will crash. In the previous versions the blue screens were quite 'out of your depth' and technical that showed errors, but in Windows 8 the Blue Screens is simple and just. What can be done if you have Blue Screen reporting serious errors?
How to Recover Windows 8 Errors Screen and Death Blue Screen
If you have some system error on your computer, then you must first be patient and check the errors online that is showing. You will mostly find that it is showing hardware drivers errors. Then you could follow the steps given below
If it is a graphics problem, visit the Website of your hardware provider and download Latest versions of the hardware driver.
you could also download the same from Windows By following the link http://msdn.microsoft.com/en-us/library/windows/hardware/gg487428.aspx
If it is an unknown error try visiting the Windows 8 website and update your computer for free.
These errors are shown by Windows 8 because it has not yet been optimized for great performance along with the drivers being provided by the hardware associated companies.
If you face any problems regarding the blue screens of death, feel free to connect with us. These links further would be handy in need