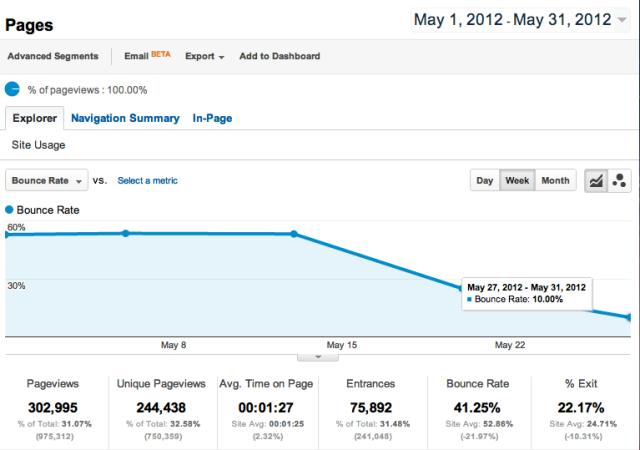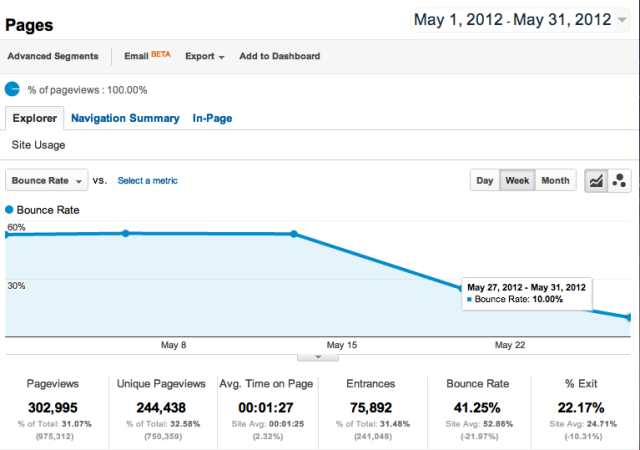 Google Analytics is a heaven for webmasters where he shelters in search of data of his running website. Here website owners finds all about his website analysis, makes research, inspects whether data are in balance or not and obviously step forward to repair  imbalances. In these data one is Bounce rate of his website.
Bounce rate of a website is meant by the percentage of visitors return back without clicking to visit another page from your website page (post). This means people reach on your website post, but, they become not interested to read other posts.  66% (two third) is assumed to be ideal bounce rate for a website. If it is more you should be concerned. But, according to nature of website slight change in this ideal mark is possible. For instance you have a customer care number website, bounce rate will be naturally more than 66%. So there will be many reasons for high bounce rate. To reduce it you will have to pay attention to all data as Average visit duration, page visit duration, etc altogether.
Following are methods should be used to reduce the bounce rate of website in the best possible way:
The loading time of the page: The page should not take anything more than 6 seconds to load. All images the codes should be properly optimized, and the clutter should be cut to improve web page speed.
Audio and video startup content: It is very irritating for many surfers when they start hearing music or see videos which might take time to load due to slow buffering on entering a page. Such content should be immediately removed.
Visual impact created initially: The website should keep up to its real spirit by creating an intense impact of what it is all about. An online shopping store can instantly show offers on the page visit. The content and the image should be very relevant to what the site usually wants to portray.
Browser Compatibility: There are many users still using the old browsers which might not support the website content properly thus making them to leave the page. Thus, the compatibility of the website with all the browsers should be checked.
Relevance of the headings: The headings should be relevant to the content in the website. Such features should be added which automatically understands the searchers keywords and understands them thus displaying them.
Title should be enticing: The title should be very interesting and must catch the attention of the visitor.
Relevant images: The images used should instantly display the content in such a way that the visitor is bound to scan through the pages. The content should be clearly depicted through the images.
Keeping the important things at the top: People usually leave a page when they fail to find what they are finding though it is still in the web page. The visitor has not scrolled down. All the important information should be at the top so that they instantly come in the view of the visitor's eyes.
Simplicity: Maintaining simplicity with not more than 5 navigational links is very important. The  content must be very nicely organized and should not be cluttered.
Simple language: The language used should be very simple so that it reaches the masses and is understandable by many. Simple language would encourage the visitors to read more.
Broken content: any visitor would become mad if he sees a 100 line content. The same content can be broken into small paragraphs or points which give an illusion that it is short.
Removal of distractions: Distractions are the most important reasons for any person leaving the website. Advertisements or various pop ups are really distracted. These must be completely avoided or should be lessened.
Watch Analytics Rreasrch: You should watch your bounce rate data in Google Analytics regularly and try to know which post is causing the increase, after that solve it instantly.
Hope, these tips proved helpful in your application. Suggestions and comments are always welcome.