The BlackBerry 10 smartphone is available in all over the world market for purchasing. Blackberry 10 has been launched in only two models like Blackberry  Z10 and Q10. If you have decided to sell or give your BlackBerry 10 device as a gift then you need to wipe all the valuable information securely or do the action of reset factory settings to the device. Protecting your BlackBerry Device 10 data is an essential task while you are going to sell or hand over it.
In this page, I am going to simple tips about wipe data from a BlackBerry 10 device securely before selling. Using the below given tips, you will be capable to secure your data.
Related Post: Download Opera Mini Android, iPhone, Blackberry, Java, Symbian
Reset Factory Settings or Securely Erase a BlackBerry 10 device Data
How to securely wipe out a BlackBerry 10 device data?
Before wiping your BlackBerry 10 device, you have a good option to backup all the data to your computer using the BlackBerry Link software.
If you have taken the backup of your BlackBerry 10 device data successfully, then go to the home screen of the device and launch the Settings app.
Now tap on the Security and Privacy option.
Scroll down to the bottom of the screen and tap on Security Wipe option.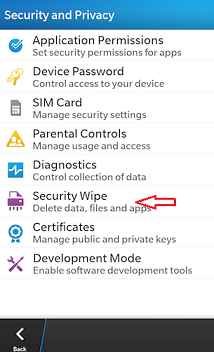 In the Security Wipe window, you will need to type blackberry into the text field at the bottom before going on. After typing the keyword, you have to tap on the Delete Data button.
Now your BlackBerry 10 device will perform the action of reset factory settings itself.
This method takes about 10-30 minutes to erase the device data that depend on the amount of data saved.