Word 2013 of Microsoft Office 2013 edition has offered various levels of evaluation feature with the purpose to improved teamwork significantly. In this context, Word 2013 has revealed a new feature termed Editing Restrictions that assists writers to restrict their documents with passwords so that Proofreader, colleague, tutor, or unknown person could not perform the task of editing and formatting. This feature refers privacy options within word 2013.
In most instances, the edit restrictions feature is helpful to find out or keep an eye on what is being edited in a current document. But, you have a better option to enable editing restrictions on a word 2013 document to secure documents. Enable Editing Restrictions in Word 2013  First Step
Launch the document of the word 2013 for which you would like to enable editing restrictions.
Then click on REVIEW tab on the top panel located ribbon panel in opened document.
Next, from the Protect section, choose Restrict Editing option.
Second Step
Now a tab of editing restrictions settings comes up in the left side which provides options to change editing restrictions.
Go to Editing Restrictions section and check the box nearby to the next option Allow only this………….document.
Third Step
Now click on the drop-down arrow in order to show the list of options and select the preferred option. For instance:
No Changes (Read only) – This option prevents other users to edit any type of matter to your document. Comments – it does not let the proofreader or other users to edit your document, it suggests to edit in particular locations using comments.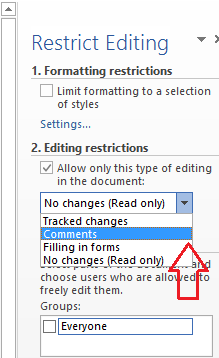 Fourth Step
After choosing the preferred restriction option like comments under Editing restrictions section, go to Start Enforcement option at the bottom panel.
Now click on Yes, Start Enforcing protection option to set this security to the document.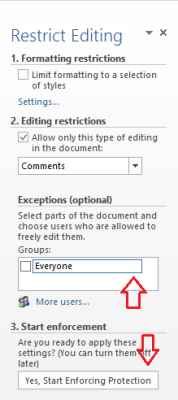 Next, a tab named Start Enforcing Protection will come out and request you to type password with the intention of protection of the document.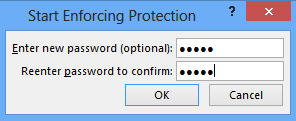 After configuring these settings on the word 2013 document, no one can edit your word document in any condition.