Samsung Champ Neo DUOS has abundant of features as GPRS (850/900/1,800/1,900 MHZ). Bluetooth version (PBAP, PBA, A2DP, AVRCP, FTP, GAP, HSP etc), Chat On and PC Suite as Samsung Kies, but to get advantage of these features you should customize and activate these quite well. You can get access to internet, download apps, play games and do more by touch experience. It has Dual SIM function. Here we are presenting Samsung Champ Neo DUOS Tips and tricks which will guide you to enable the functions and features of your mobile.
Samsung Champ Neo DUOS – Access Menu
To Access your phone's Menu then you have to do some step as given.
1. If you are in Idle Mode then choose Menu to get access to menu Mode.
2. Slide left or Right to the main screen.
3. Pick a menu or application, then
4. Tap the Back Button to move up one level and press Call Cut Button to back in Idle Mode.
Note: When you access your Menu then you have to give PIN2. So you must enter the PIN2 as supplied with SIM Card otherwise you can contact with your Service Provider.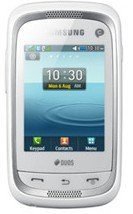 Samsung Champ Neo DUOS – How To Manage SIM Cards
As you know that this device supports Dual SIM then you have to enable to use this facility at same time.
To Activate SIM Cards:
1. Go with Menu Mod, select setting-> SIM Cards Managements
2. Select Network of SIM Card
3. Select On Or Off to enable or disable the Network and save it.
To Switch SIM cards Automatically:
1. You have to go with Menu Mode then select Setting-> SIM Cards Management
2.Choose SIM auto switch.
3. Choose Activation option to Activate the auto switch feature.
4.Set time of Starting and Terminating to use the SIM card.
To Change the names and icons of the SIM cards:
1. Follow the First step just above given.
2. Choose Register Card then,
3. Choose SIM card.
4. Translate or Convert the name and icon of the card.
5. Tap Return Button.
6. You have to choose same step 3 to 5 for another SIM card.
Samsung Champ Neo DUOS – How to Make Fake Calls
It is also a special feature for pretend an incoming call when you don't want to go in meeting and other conferences.
To Activate Fake call Features:
1. In Menu mode you have to choose setting-> call-> fake call-> Fake call hot key.
2. In Idle Mode you have to Long press or hold the volume key down.
Samsung Champ Neo DUOS – How to use widgets
This device has a lot of widgets on the idle screen, some of those need an internet connection and many widgets may vary or depending on your region or service provider.
To Open A Widget: In Idle mode you can scroll your pointer left or right to panel of the screen then you have to choose widget to activate on the idle screen.
To Organize Widget: You can also organize your favorite widget on panel of the idle screen, by using this you can set or remove your widget.
1.In Idle mode, you have to choose widget toolbar to open at the top left of the screen.
2. Read the Disclaimer of widget Carefully and select I Agree.
3. Slide the Widget toolbar left or right to search the wishing widget.
4. Pull the widget to the idle screen.
Warning
1. Do not use damaged Power cord or loose electrical sockets.
2. Do not Curve the Power cord.
3. Do not use your device when it is charging.
4. Do not touch when your hand is wet.
5. Do not use this device in thundering season.
6. Do not Break the battery forcefully.
7. Do not strike the battery's pin with any metal, it gets fire.