Everyone considers Samsung as the top brand of the Smartphone in present times. The latest Galaxy S4 has produced another boost for Smartphone market. According to sources, about millions of people have purchased the Galaxy S4 already from worldwide markets. If you are scheduling to buy Galaxy S4 in the near future then you need know the entire new feature and its tips firstly. I have already summarized built-in Galaxy S4 new feature  in details. Now, it is time for knowing the Galaxy S4 new helpful tips and tricks. So I have collected 8 helpful tips of Galaxy S4 that can help to every new Galaxy S4 user.
1. Improve Battery Life of Galaxy S4
The Samsung Galaxy S4 models offer 2,600 mAh battery. But it is always careful to identify how you can improve or boost battery life in case a whole day or a forgotten charger. One of the simplest tips to improve the battery life is to activate Power Saving Mode.
To find this option,
Go to Settings and tap on My Device.
Then tap on Power saving mode option. This tip lets you to enable CPU power saving, Screen power saving mode.
As soon as you set the power saving mode on your Galaxy S4, it's also present in the notification pane of quick settings.  One of the main reasons for draining your Galaxy S4 battery life is to run some heavy services always without the need. For example – WiFi, Bluetooth, S Beam, NFC, Air Gesture or Smart Scroll. In this situation, a proper tip is to enable or disable these options through quick settings.
2. Turn on Motions and Gestures features
Samsung has presented three new features to control your S4 phone by a gesture or motion of your hand.
Motion
There are many motion gestures options available on the Galaxy S4. For example –
If you receive a new SMS and pick up your S4 then vibration is activated automatically to show the Inbox.
Holding the S4 phone to your ear when on a contact page will auto call to the desired person.
Turning the screen horizontal will mute automatically.
Palm motion
The features of palm motions are similar to Galaxy S3. Now Galaxy S4' phone is gifting you the capability to sweep your palm across the screen and take a screenshot. Besides, the opportunity to handle the screen with your palm to pause audio or video.
Air gesture
The new stirring additions have added to the air gestures on Galaxy S4.
If you hold your hand above the sensor on the top right to enable the screen then you will view notifications of missed calls, new messages or the current date and time.
You can scroll the webpage automatically by waving your hand up and down over the sensor or left and right to surf horizontally.
You can also wave your hand left to right to answer a call.
The new feature "Air view" of Galaxy S4 is similar to YouTube streaming. It lets you to float over an area to view next section or to view some inside items in a pop-up list. This feature is useful when you play a video clips or movies on your Galaxy S4.
To activate the motions and gestures options in Galaxy S4,
Go to Settings and tap on My device.
Next tap on Motions and gestures.
Here you will get option to enable three above features and check it.
3. Customize the Notification Panel
In Galaxy S4, a Quick settings option is available by pulling down the notification pane. The Quick Settings facilitates a simple method to turn on or turn off a range of features or settings.
How to Customize the Notification Panel in Galaxy S4 ?
At first, pull down your finger at the top side to bring a notification pane.
On the top right, tap on the icon that appears with a little square and two arrows.
Now tap on the pencil icon that shows to the left side.
Then you need to do the action of drag and drop to place the most used settings icons on the notification pane. You can also scroll in the notification pane to move other settings.
4. Enable the Call Block and Auto Call Reject
The Samsung Galaxy S4 adds two different options for controlling who can call you and at what time.
Blocking Mode
It's an admirable feature for getting a good night's sleep. To enable it,
Go to Settings and tap on

My

Device tab at the top side.
Then scroll down and tap on Blocking Mode option to turn on. Using this option, you can turn off incoming calls, SMS, Screen notifications, alarm and LED indicator.
You can turn on the Blocking mode option either manually or set it disable between definite hours.
Auto Call Reject
If you like to talk with one particular number then call reject is a suitable option. To enable the Call Reject on your Galaxy S4 phones,
Start the Settings and tap on

My

Device tab.
Then tap on Call option and find the Auto call reject option.
The most general method to create the Auto reject list of all targeted numbers. To do so, simply enter a number and check the box beside it.
In additions you can set and send a message automatically to the rejected person giving details why their call was rejected.
5.  Customize the Lock Screen
The role of new purchased Galaxy S4 lock screen is not remarkable or useful by default. So you need to follow a few tips to customize the lock screen.
To get started,
Launch the Settings and tap on

My

Device tab. Next select the Lock Screen option.
At first, you have to check the box of Multiple widget options. Second, you can select the Shortcuts option to create shortcuts to most used apps on your lock screen.
Now for the true enjoyment, lock your Galaxy S4 and head to the lock screen to explore quickly.  By swiping next to the top of the screen, you can find a camera widget at the right pane or add your personal widgets on the left side like Google Search, Gmail, S Voice.
6.  Take Better  Quality of Photos from S4 camera
The Galaxy S4 built-in dual-mode camera offers new attractive features like Drama Shot, Eraser for photo lovers. These features help them to take and make the best photos with Galaxy S4 camera. Keep in mind that the Galaxy S4 camera supports 9.6 megapixels for capturing a photo and 16:9 aspect ratio for recording a video by default. Though, it is a compatible aspect ratio for recording the video, but not fairly so much for taking a better photo.
How to take better quality photos with Galaxy S4 camera ?
At first, launch the camera app and tap on the settings option.
For getting better quality of photo, you can set up to 13 mega pixels and 4:9 aspect ratio and also turns off these settings here  -Burst shot, Face detection, Metering, ISO, Anti-Shake and Auto night detection.
You need to concentrate the ISO settings of Galaxy S4 camera. If you set the lower ISO settings then your photos can possibly be shady. But by turning up the ISO settings, you can take photos in lower light too.
7.  Record Fun Videos with camera motion speed
If you wish to capture some events in inspired mode then the Galaxy S4?s camera is a great solution. I have found a few video enhance options to flavor your videos in funny mood.
First, start the camera app and tap on the settings option at the top of the screen.
Now select the Recording mode options. Here you will four options that to the beneath from Normal and Limit for MMS.  The two other options namely slow motion and fast motion are also helpful.
As soon as you select these both options, you will a get another option to the right of the camera's option during record a video. This option lets you to select the speed of videos either in 1/2, 1/4 and 1/8 of normal time (in slow motion) or 2x, 4x or 8x normal speed (in fast motion).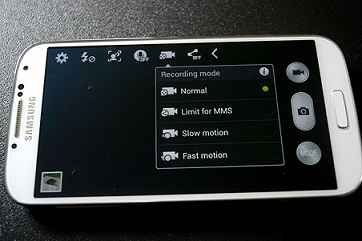 8  Use Auto-Brightness for a Brighter Screen
In Galaxy S4 device, usage of Auto-Brightness feature continually is the best tip. With Auto-Brightness, you can narrow your eyes and try to see screen's items comfortably on a bright day.
To enable the Auto-Brightness on your Galaxy S4,
Go to notification pane and look for Auto-Brightness tab.
Make sure the Auto tab is

check

.