To manage the services and apps that protect your device, you can directly See Security Providers in Windows 10. Starting with Insider Build 17704, Windows Security application includes a page that displays the list of all the security providers that are currently running on your device. Basically, its aim is to help you to control their privacy and safety settings in an effective way. Furthermore, you will have a quick access to the installed apps, reported issues and many more through its interface.
The recent version of Windows 10 April 2018 update has come up with an app called "Windows Security". However, previously it was entitled as Windows Defender Security Center but Microsoft renamed it with this edition. It is just a dashboard that helps you in tracking the protection state of your device. It allows you to manage apps and services such as Firewall, Antivirus, and Web protection.
See Security Providers in Windows 10
Here is how to see Security Providers in Windows 10 –
Step-1: Hit Windows key on your keyboard and once you see the list of applications, go to W section. Here, locate Windows Security and make a click on it. As an alternative, click the shield icon that appears on the notification bar of the taskbar.
You can also Create Shortcut to Windows Defender Security Center on Windows 10.
Step-2: Now perform a click on gear icon of Settings located in the bottom left corner of the page.
Step-3: When the Settings page comes into the view, do a click on Manage providers link lying under Security providers.
Step-4: Here you will get all the available security providers. If you want to take a look at available options, click on the desired app.
Antivirus: This shows you whether Windows Defender Antivirus is enabled or disabled. And to customize its settings, select it and click Open app button.
Firewall: Similar to the above security, you will get to know the status of Firewall. Select it and click Open app button to manage its settings.
Web protection: Provides safety to your online behavior.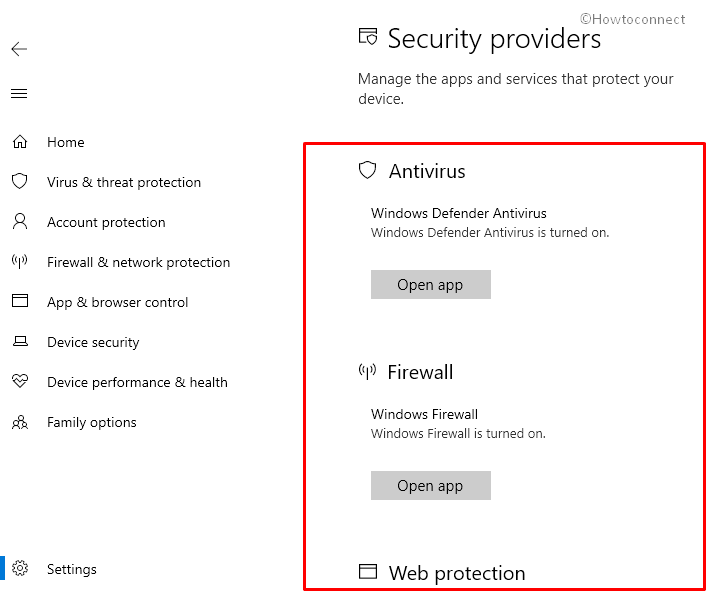 That's all and you can now See Security Providers in Windows 10.