The Samsung Galaxy S4 introduces a new gesture control feature that is called Air View. This lets you preview a photo, view the text of an email message in the inbox and scan ahead on a video by floating your finger over the screen. Using this feature, all actions are done without touching the Galaxy S4 screen. The Samsung Galaxy S4 Air View feature also provides other information while you hover over an object with your finger.
Related Post: How to Add Application Shortcuts to Samsung Galaxy S4 Lock Screen
How to Enable Air View on Galaxy S4?
Launch the Settings menu and tap on the My device tab at the top of the screen.
Now scroll down and choose Air View option from the provided lists.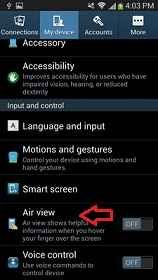 Now you will get settings screen of Air View option. Toggle the slider at the top of the screen from off to on (it will change to green sign).
Next, you need to toggle the sliders of these options one-by-one in order to turn on information Preview, Progress Preview, Speed Dial Preview and Webpage Magnifier.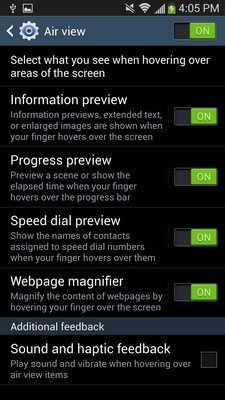 How to use for viewing Photos
Launch the built-in Gallery app on your Galaxy S4 screen.
Place your hand roughly half an inch over the gallery that you like to preview.
 Hold it until you will get a collection of images from the gallery app.
How to use this feature for watching movies
Play movies on your Galaxy S4 screen using video playback app.
Hold your finger around a half an inch at the progress bar and bring it forward to preview the video.