You are often serious to follow your health, exercise and eating habits on the right time. But it is not easy to chase for someone who spends  fast life all day long. Now you can say thanks to the Samsung Galaxy S4's new built-in Samsung S Health app. With the feature of S Health app, you will be capable to view how many steps you have taken in a single day to track your exercises, walking routines, check your Caloric eating or drinking and  know that  how comfortable the room at this time in which you are exercising.
How to set up S Health app on the Galaxy S4 ?
Launch the S Health app on your Galaxy S4 phone and tap on the Next button.
On the next screen, you have to agree to the terms of service and press Next button.
Now you get a new screen called Profile. Here, enter your all profile detail correctly and tap on the Start button at the bottom of the screen.
How to check your comfort level with S Health app ?
Start the S health app again on your Galaxy S4 phone.
Then tap on the settings button in the top left corner of the app screen and select the Comfort Level tab.
Now S Health app will find out the temperature and humidity in your general surrounding area like room, locality.
Next, the S Health app will negotiate your comfort stage altogether.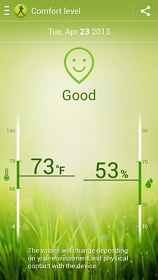 How to track the number of steps you've walked in a single day with S Health app?
Now tap on Walking Mate tab in the Settings menu in the top left side of the S Health app.
When you are ready to start walking, tap on the Start button.
The tracker will calculate the number of steps you have walked until you press the Pause button at the bottom of the screen.
Click here to read more features of Samsung S Health app