Chrome Wire is a free tool that lets you set Chromecast Wallpaper as Windows background randomly. Chromecast has the fame for streaming all kinds of online and local media. It brightens your desktop with a bunch of beautiful wallpapers that keeps on changing accordingly.
You might look for the stunning wallpapers to set on your Windows desktop that Chromecast has. Then you can download Chrome Wire as it provides us around 1000 images. See further in this guide if colorful wallpapers attract you.
How to Set Chromecast Wallpaper as Windows Background Randomly
Download and Install Chromecast Wallpaper
Step 1 – Get Chrome Wire after visiting its page.
Step 2 – After downloading Chrome Wire, extract the contents and store them in a separate folder. Now, double-click Chrome Wire.exe file to Set Chromecast Wallpaper.
Step 3 – Then you see a black console which will ask you to enter the registration info. If you do not have the registration info then press Enter or Return to continue.
Step 4 – Once you press Enter, you see messages like Locating Chromecast image list from source 1.
Step 3 – Now, go to the desktop and you notice a new wallpaper. It will again ask for a donation and if you are unwilling then again hit Enter or Return to close.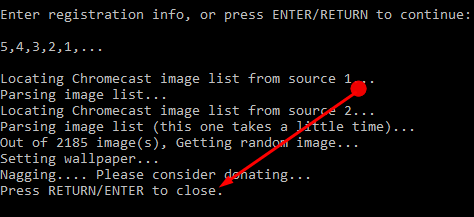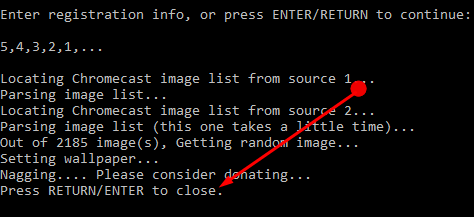 Note – Chrome Wire is a free software but in order to meet the cost of the software, it gives you an option to make a donation and get a registration key. To make any donation visit this page. After donating send a mail to chromewire@vdsfreak.com with the subject as Donation. In a short while, you will receive the registration info.
After registering you will get the following features
1) All delay and nags eradicated,
2) Allow hiding of the console window for use in the batch files and startup,
3) Image list cached locally making it much faster.
The End
Chrome wire is a simple light weight user-friendly app that aims to lighten up the desktop with colorful images. Without any setup, Chrome wire will switch over its entire collection of wallpapers. Hence, Set Chromecast Wallpaper as Windows Background randomly.