Guide and Steps to Set SafeSearch on Cortana Windows 10. – When you type anything in Cortana Search you view few suggestions from the web. You know browsing the Internet on Bing (or other) search engine brings forward numerous objectionable content Bing SafeSearch Setting enables you to restrict and avoid the content. Cortana the Personal digital assistant allows to Control Bing Search through many Settings within itself. So you can Set SafeSearch Staying at Cortana if you want to prevent the Sensitive suggestions to be shown by Bing on Cortana.
Cortana provides the 3 levels of SafeSearch the same as Bing. These decreasing safety levels of SafeSearch on Bing are Strict, Moderate, and Off. After you Set SafeSearch on Cortana Windows 10 and select a level, you will not get the suggestions coming in other levels.
Microsoft Edge is the Built-in Browser for Windows 10 OS accompanied by Bing following the Search Engine Setting. As a consequence, if you type a query in Cortana it displays relevant suggestions from Bing whenever your PC doesn't have. When you Set a Strict level in SafeSearch on Cortana you can block the offensive suggestions you don't like to see. SafeSearch applies enhanced technology to filter content, but it won't catch everything.
If you want to enhance your experience and Cortana SafeSearch is an important Setting. In addition, these settings are also very useful to stay safe and avoid bad stuff on Cortana. This setting plays an important role for your children to Stave off from the obnoxiousness of Internet when you are on Cortana.
Set SafeSearch on Cortana Windows 10
Step 1 – Click on the Cortana icon located just forward to the Start button on the taskbar.

Step 2 – After the Cortana opens, Select Settings cog. All the Settings of Cortana will appear in the middle.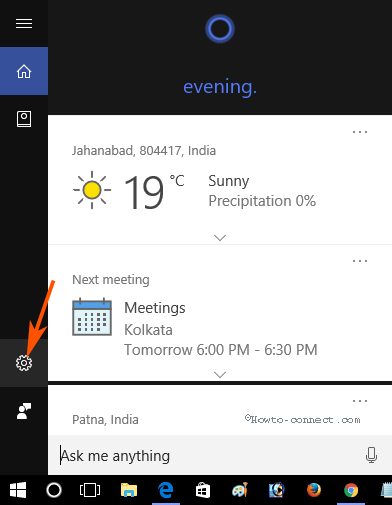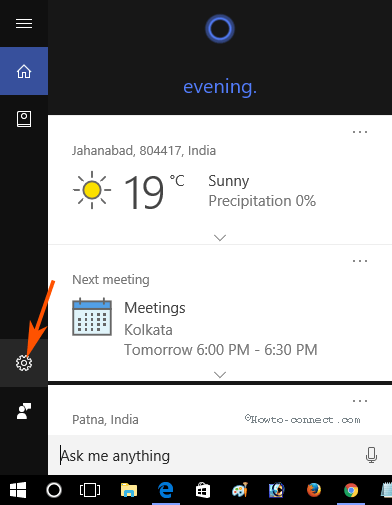 Step 3 – Go downward until you find SafeSearch.  On the SafeSearch, you notice 3 Settings.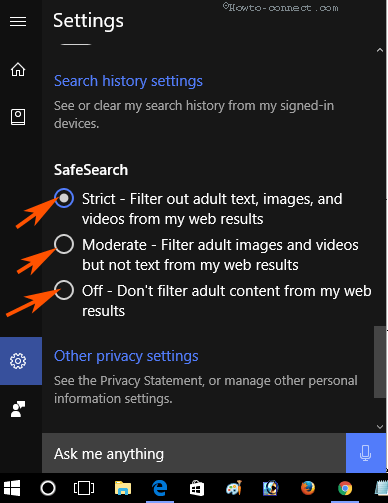 Strict
The first one is Strict means this Setting will prevent all the result of the web objectionable non-matured users.
Moderate
Second is Moderate which will restrict only filthy images. You will see all the text results if you choose moderate.
Off
And the last Off will provide all the results whether it is good or not for you.
Determine which level of  SafeSearch suits you and check one option. The Levels will automatically get effective after you choose the SafeSearch option. You will get the suggestions from only under the level that you have opted for.
Conclusion
So Once you Set SafeSearch on Cortana Windows 10 you will get the result accordingly your chosen level. This will certainly help you to avoid bad materials suggestions from being seen. Hope, you will be able to keep yourselves and your kids safe from the filthy substance using this method.