A new service from BitTorrent has come out a few days ago. It is known BitTorrent Live that facilitates you an opportunity to create your personal Internet TV Show and stream your videos live online. Though the service is now in beta, and in near future, you will be capable to create your personal video broadcast. But, keen users can sign up to get the beta version for testing without delay.
BitTorrent Live is a peer-to-peer live video streaming service that lets users broadcast a video feed with a webcam or using external software. It has proved a great break for those users who like to create their personal network over the internet.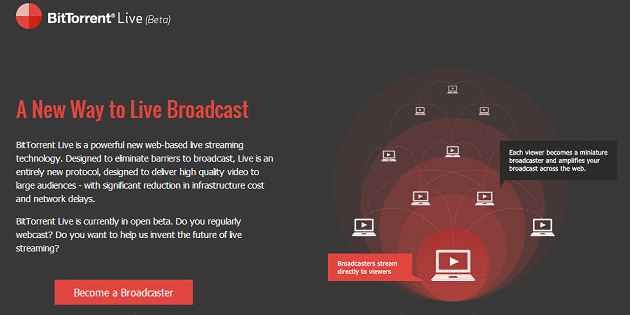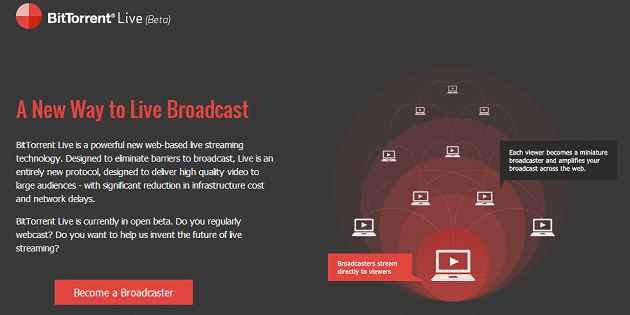 How to set up BitTorrent?
To set up and configure BitTorrent service is difficult for those users who have not proper knowledge about how Internet streaming works or how to create personal live stream?  In this context,  I am going explain simple tips with steps underneath to solve their problems.
Step 1
At first, you need to arrange following items to make your live stream working with BitTorrent Live service.
High- quality Web Camera and make sure that it is working on your computer or High quality Laptop webcam.
High-speed Internet connection
Adobe Flash Media Live Encoder app
BitTorrent Live client app
Step 2
Next, you have to sign up at the BitTorrent Live website for creating a new account.
Step 3
Now, download and install Adobe Flash Media Live Encoder to your computer.
Step 4
As soon as above process is finished, you will have to log in to your BitTorrent Live account to download BitTorrent Live client app.
Note
Keep in mind that BitTorrent Live client will run in background on your computer.
Follow the links given in the email which you have received from BitTorrent after creating new account. In the mail page, look for the custom links that you have to add in Adobe Flash Media Live Encoder app in step 5.
Step 5
Launch Adobe Flash Media Live Encoder app on your computer and configure the video device in left and right side. Now you will have to paste the links after copying from the email page. Next click on Start button.
As a result, you should watch the video from your web camera on your channel page.