Reboot Restore Rx is a fine solution to restore computer's data. It has been developed by Horizon Datasys team. This software helps you to restore the computer to a custom predefined stage while you reboot your computer. It reverts any changes made to the computer during the earlier session. In addition, this software facilitates you to control the shared computer located at schools, internet cafe, hotels, etc.
Reboot Restore Rx should be much useful for them who run more than one computer and different people use it daily. Due to rough use of computers data gets lost often. In this situation, they can use Reboot Restore Rx and restore the computer's data as it was earlier.

Tips for How to Use Reboot Restore RX software?
The usage of Reboot Restore RX software is pretty simple. During its installation session, it requests you to select the hard drives of the computer that you like to restore after rebooting. You can also set desired restore points for various hard drives. But the Reboot Restore RX software does not allow you set another restore point for each hard drives. After selecting the hard drives, click Next to finish the installation process and reboot it.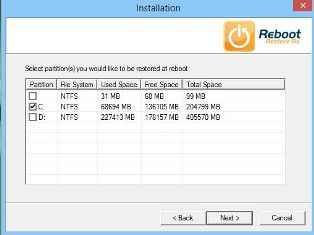 Next, you will notice that icon of Reboot Restore RX software is found in the system tray area of desktop taskbar panel.
When you right-click and select Restore on Reboot option in the right context menu panel, Reboot Restore RX software prompts a confirmation dialog box.
Then confirm it by using on-screen instructions to reboot your computer.
Remarks 
It is paid software but its trial version supports limited features. To download trial version click the below link and scroll down at the bottom to locate it.
Download Reboot Restore Rx Software