At present time, Facebook Timeline or Wall is a default location to share photos on Facebook account. On the other hand, Instagram app is an admire service for every mobile version in order to share photos on Facebook. The main role of Instagram service is to share photos on Facebook page with the sync feature. If Android or iPhone users like to share a photo on Facebook page quickly with the support of Instagram app then it is a simple method.
Launch Instagram app and search for the Options icon. In the iPhone, tap on the Gear icon, choose Options from under Profile menu. On Android, tap on the Menu icon in the top-right side and view profile.
Tap on Share settings icon.
Next, tap on Facebook icon then a new screen displays with Share Photos To option.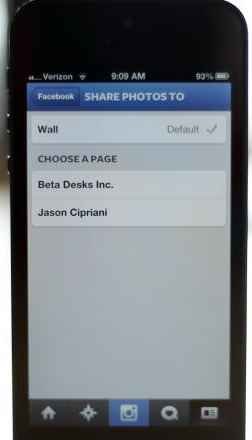 If android or iPhone user has configured any Facebook page already inside Instagram app, a list will be shown on the screen.
Then tap on desired Facebook Page. Thus, any photo of camera roll folder or gallery will be posted on tapped Facebook page using the Instagram sharing feature.