A torrent is recognized portal for sharing every type of item like software, movies, books, music albums or many more. Although the torrent is in the way to use piracy items, but it is still one of the top services to search and download everything in the quick mode.
Presently a new chrome extension titled BitTorrent Surf  (Alpha) has been revealed. The extension lets you find out and download torrents items directly by chrome. Downloaded torrent items are stored in the particular downloads folder automatically. With BitTorrent Surf  (Alpha), there is no need to run any extra desktop based torrent client tool.
How to access Surf extension on chrome browser using BitTorrent Surf
When BitTorrent Surf is installed within chrome browser, at first it will request you to set the default search engine.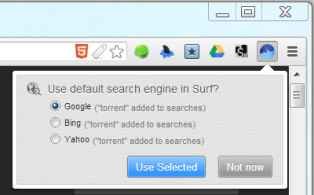 Click Surf icon and again click on options button on extension interface. Next, click set download options in order to change default download location or clear the recent download history.
To add extra websites to search more torrent links through this extension, click on surf icon in the extension bar in the top right side and choose search settings button. Then a pop-up appears and click Add Site from URL button.
To start download any torrent items using the Surf extension, click Surf icon, and type a query in the search bar. Next, click on down arrow green colored button.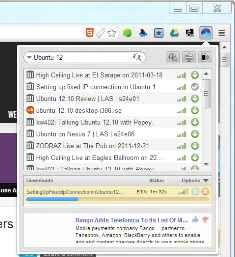 After completing the download, any torrent tasks, BitTorrent Surf displays successful notifications in the extension bar.
Install Surf Extension From Chrome Web Store