How to show Online Friends only in Facebook Chat – Chat window of Facebook shows status of both Offline and Online Friends at the same time. Whenever you prompt to share ideas or emotions to specific friends, you have to scroll up to see all your online friends. Circumstances like this irate you most and then idea of removing offline friends comes to act. Showing only Online friends would be better option for all those looking to uninterrupted sharing through their Facebook accounts. Now, I am going to deal with issue of removing offline friends from chat window of your Facebook accounts.
To remove Offline friends of Facebook Chat windows, you have to install extension of 'Facebook Chat Fix'. But remember 'Facebook Chat Fix' extension works only with Google Chrome browser. Chat Fix extension removes not only Offline friends but also Live News Ticker box from your Facebook accounts. It reverts your new Facebook chat box into old Facebook chat box, wherever no any offline friends will be existed. So, go for Chrome Web store and choose  & install 'Facebook Chat Fix' extension.  To install Fix Chat extension you may follow step-wise suggestion.
How to show Online Friends only in Facebook Chat Step by Step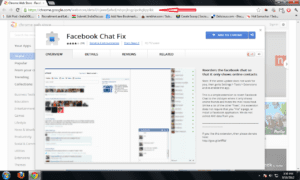 Then after click Added to Chrome button, which available at top right corner of web page.
 Then message of fixing extension of Facebook Fix Chat appears.
Note: – Above extension will execute only in such system having Windows Operating. System supporting Mac and Linux requires to load other extension called 'Fix Chat'. The downloading link of Fix Chat extension is placed below. Users have to drag the link of Fix Chat in to bookmark bar to make enable this extension.