Sihost.exe in Windows 10 including predecessors Windows 8 and 7 is an executable file. This is a core system program located in C:\Windows\System 32. See What is wsappx and How Works.
Now the question you may have is – Whether sihost.exe in Windows 10 is a virus? The answer is NO. This is a completely safe Microsoft Windows program but few malware developers intentionally give the identical name to their files so that one cannot detect.
sihost.exe in Windows 10 Full Detail
What is the role of sihost.exe?
The SiHost.exe is an essential executable file and shell infrastructure host. The program  leads to run various processes on Windows 10 to carry out the works like opening context menu, Start, action center, etc.
May you delete sihost.exe?
.The sihost.exe runs in the background you can terminate normally from the End task in Task Manager. But beware as it may cause Critical Error – Start menu and Cortana aren't working. In addition, you may encounter crashing of Windows and File Explorer. You can't  Delete because it would break the Windows Shell completely
What defective sihost.exe in Windows 10 does?
A defective or obsolete version of Shell Infrastructure Host or sihost.exe can cause your device to become slow or flash many kinds of error messages such as:
First – Shell Infrastructure Host has stopped working, Windows is checking for a solution.
Second mess up error note – "A problem has caused the program to stop working correctly". "Windows will close the program and will notify you if a solution is available".
Third – Access violation of address FFFFFFFF in module sihost.exe and Read of address oooooooo.
Many technical experts don't consider this file as any threat, still, the possibility of causing harm to your device is quite high. But you can ensure if the file by matching with the following properties –
Properties and Values of Sihost.exe –
File description – Shell Infrastructure Host
File version – 10.0.17134.1
Product name – Microsoft®WindowsOperating System
Product version – 10.0.17134.1
Copyright – ©Microsoft Corporation. All rights reserved
Size – 77.5 KB
Date modified – 4/12/2018 5:04 AM
Language – English (United States)
Original filename – sihost.exe

How to determine if sihost.exe in Windows 10 is suspicious?
If malware exists with the name Sihost.exe you can easily differentiate it from the original Windows file.
The suspicious Sihost.exe will have no information at all in the properties.
The behavior of the suspect program is different as it will sends pop up and not open normally.
Go to Task manager, right click on either Sihost.exe or shell Infrastructure Host and then select Open file location.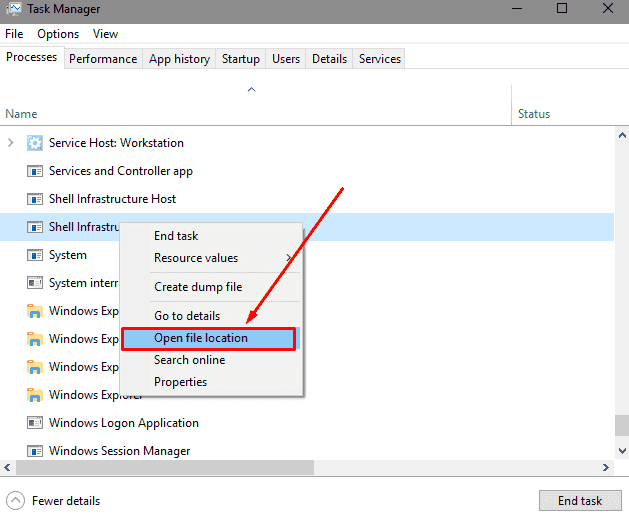 C:\Windows\System32 directory will prompt with Sihost.exe highlighted.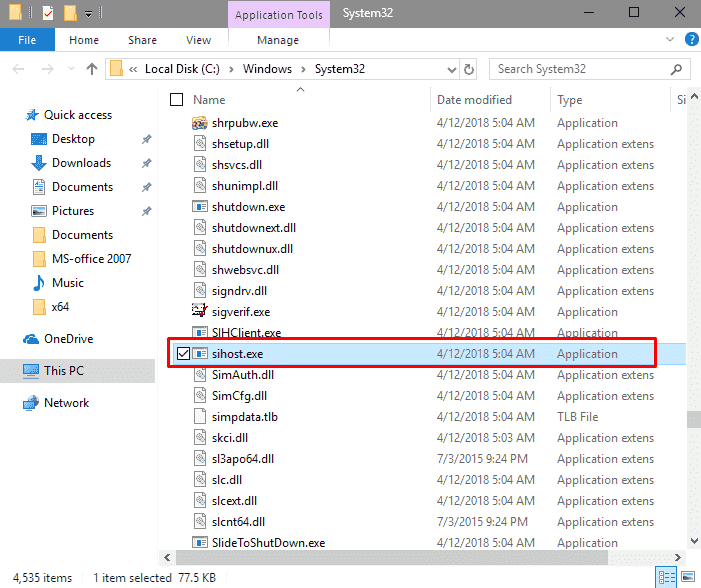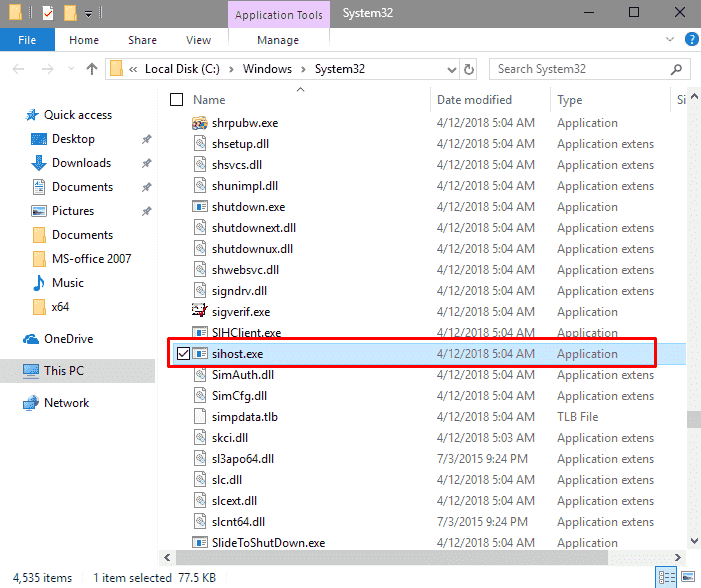 This is the original file and other items with the same name and extension will certainly be suspicicous if exist. For info, there are multiple sihost.exe in the installation files but they are kept hidden.
If you find sihost.exe in the directory other than C:\Windows\System32 you should take care and remove either manually or using a standard 3rd party tool.
Repair any Windows problems such as Blue/Black Screen, DLL, Exe, application, Regisrty error and quickly recover system from issues using
Reimage
.