Chrome and Firefox have become one of the best and preferred web browsers at this time Because both browsers offer far-reaching add-ons and extensions, outstanding UI, and numerous characteristics. In this context, newly Torch and Internet Explorer 10 are also very good options for internet users, because its latest performance has been admired a lot in the windows 8. If you like to test different web browser then SlimBoat is also an alternate choice. It is free of cost web browser, flexible and outstanding for Windows version that offers several multipurpose features.
Related Post:  Why should we use Torch Browser of Google
Features of SlimBoat web browser
When SlimBoat browser is launched for the first time to the computer after installing, it requests you to import saved bookmarks from another web browser like IE, Chrome, or Firefox. At this point, you can skip this request also.
The main interface of SlimBoat UI comprises a menu bar at the top panel and a toolbar below it. In addition, it offers some handy buttons, for example – home, forward, refresh, search, and much more. The home page of SlimBoat is loaded with various accepted websites like YouTube, Facebook, Pandora, Gmail, Amazon, eBay, Twitter, and CNN.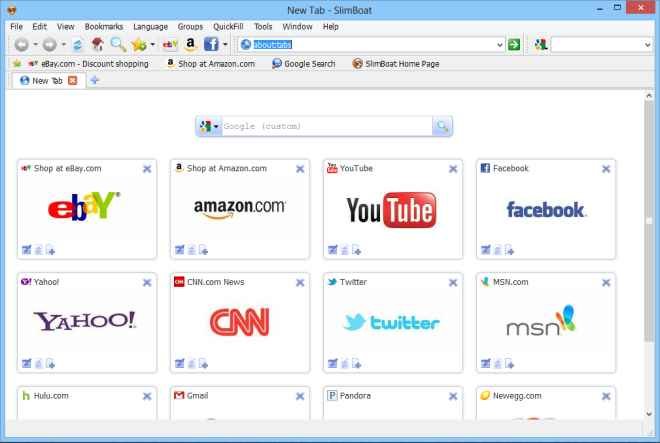 SlimBoat seems as secure, quick, and loads multiple webpages perfectly while you are using multiple tabs at the same time. Besides, you can simply restore your previous session at any time whenever your application is crashed suddenly due to slow internet connection or system power failure.
You can share or email the presently opened web page content to your friends through social services, for example, Facebook, Twitter, Google+  within SlimBoat Browser in a quick way.
SlimBoat offers built-in download manager feature that means you can download multiple items (YouTube videos or online streaming videos from other websites) simply from web page. It facilitates you to add custom URLs for the download file.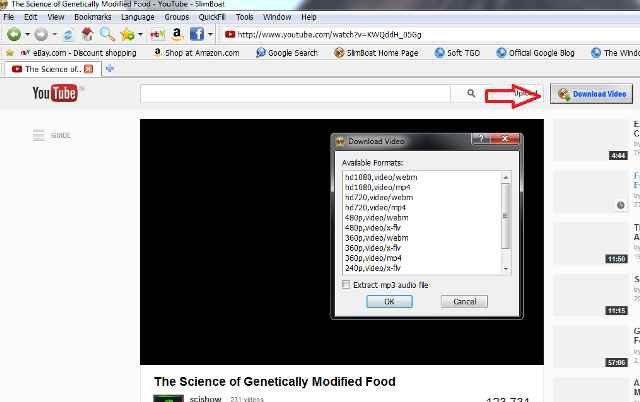 The File menu of SlimBoat browser holds a lot of features that aren't present in Firefox and Chrome. For example – you can save a full web page as a screenshot or PDF format with single click so that you can read it later. It offers also private browsing feature to keep your privacy from others anytime.
In SlimBoat browser, a useful feature is that you can block annoying pop-up and ads without installing any external add-on or extension from the settings interface.