You are working with concentration on your PC and suddenly pop up or update notification appears in between, obviously, you get disturbed and try to stop this annoyance.
Here the process of stopping live tile notifications is being given step by step. So, follow these steps and stop these notifications.
Stop Live Tile Notifications in Windows 8
First Step 
If you like to disable the Live Tile Notifications from metro screen in your windows 8, then follow below tips:
In metro screen, right-click on the opted Tile which is showing current update notification.
Then you get a panel containing options at the bottom. Here click on this option – Turn live tile off.

Activate Selected Live Tile Notification in windows 8 metro screen
 Press right-click on the showing tile on the metro screen.
 Then you get a panel with the option at the bottom.
Here choose this option Turn live tile on.

Second Step – Stop Tile Notifications for all Tiles permanently on Windows 8 metro screen –
At first, press shortcut Windows key + R to bring RUN dialog box.
Type a new command Gpedit.msc and click on OK button.
Then you will view Local Group Policy Editor Window.
You have to expand following setting options from the left panel.
Computer Configuration > Administrative Templates > Start Menu and Taskbar > Notifications
Now double-click on this option in right panel – Turn off tile notifications
Then you get properties box. Here check Enabled tab and click Apply button.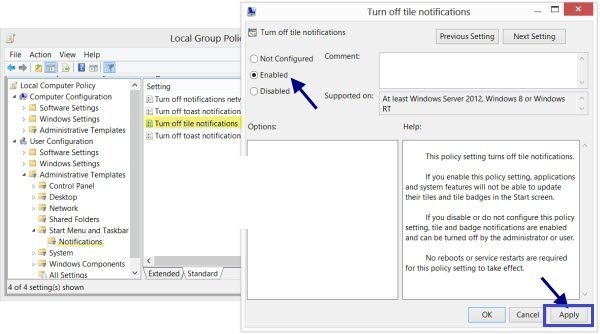 remarks
Once Enabled button is chosen in group policy settings window then your windows 8 metro screen will not update tiles from next time. Thus, tile notifications will not be displayed ahead.