SkyDrive is contemporary better online storage service than Dropbox and Google Drive. As you know Microsoft was first to introduce online storage service to people all inclusive. People are been using SkyDrive for six long months. At this time round, Microsoft stands for making 2 major updates into its services. The first update empowers you to share file and folders directly and second gives selective Sync option. Indeed, these updates were missed since the advent of SkyDrive. Before new amendments, its service of online counterpart for Sync SkyDrive folder. The inductance of two new features gives Windows 8 user permission to choose the folder which they want to Sync online or which to not.
How to Sync and Share file and folder with SkyDrive on Windows 8
Whether you install SkyDrive on your computer you will notice its updated services.  Though SkyDrive service updates itself as every bit of spent time. Right now, I am pointing issue of how to use new features (Sync & Share) of SkyDrive?'
At first install SkyDrive application on the computer then after right click on SkyDrive icon and tap on Settings option. Once installation completes, the icon of SkyDrive appears in

Taskbar

.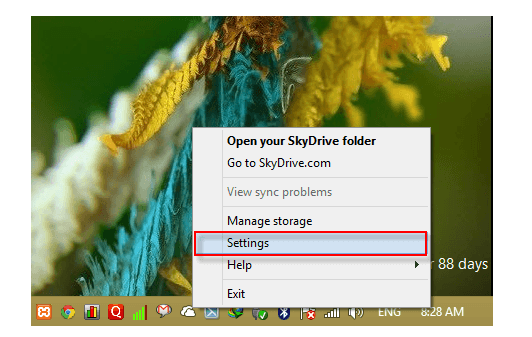 Into Setting Window click on to 'Choose Folder' tab option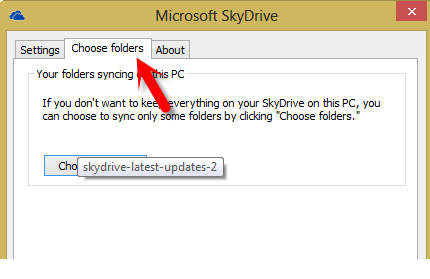 It will lead into new Window from where you can choose file and custom folder, which you want to Sync online with SkyDrive.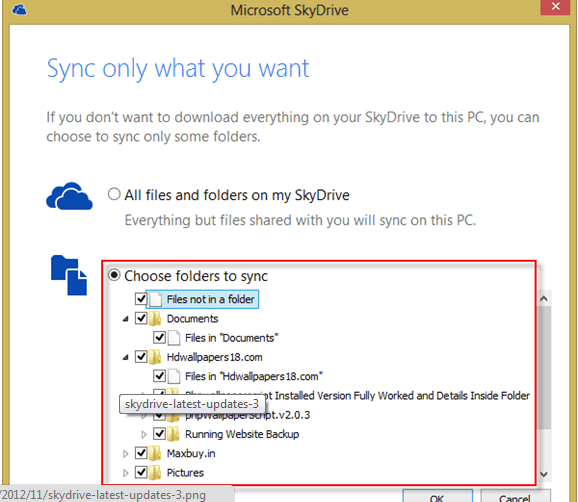 The above option does not support Sync service to any file and folders from outside SkyDrive. 
Other updates you will notice Share option in SkyDrive. To share any file and folder to anyone else, right-click on folders or files and then after choose 'Share option'.