In this era of technology, you might need to use multiple devices for several purposes and that's why Sync Ease of Access in Windows 10 is very important. Why? Because you will get all the tools from the settings automatically after only logging into another device. Microsoft brought this feature in order to keep the same arrangement on all devices that are distant from each other. In fact, you can Sync your Settings and all the information that will allow you to access your files, folders, and documents globally. In addition, you can also do the same for only Ease of Access Category in Windows 10 for better user experience.
Previously, Sync Settings was a very underrated feature for an unknown reason. But since when it has got a new makeover with the release of Windows 10, it acquired the attention it deserves. With this feature, you are able to sync several things such as desktop theme, language, passwords and so on. However, if you don't know how to do it, you are in the right place. Today we are going to discuss the easy procedure to Sync Ease of Access in Windows 10.
Read – How to Sync the Narrator cursor and system focus in Windows 10
Sync Ease of Access in Windows 10
Here is how to Sync Ease of Access in Windows 10
Before starting, ensure that you did login in Windows 10 devices with your Microsoft account. In case, you do not have that, you can create a new one easily. Mostly, the Sync Settings in Windows 10 is turned on and you can switch it off either completely or for an individual app. Here is How to Sync Ease of Access in Windows 10 –
Step-1: Hold down Win+I on your keyboard to open the Windows Settings and then Select Accounts.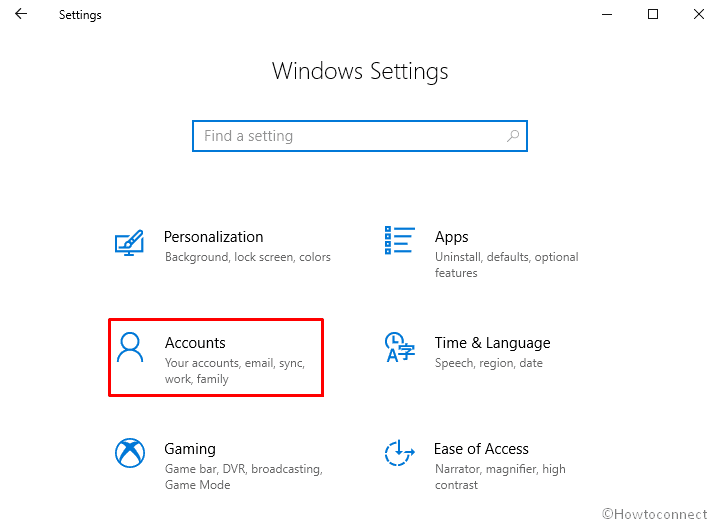 Step-2: Click on Sync your settings from the left column and move to the right side. Turn on the toggle button of Sync settings. This will enable all the settings for synchronization universally including Ease of access. If you enable the same individually then follow the next step.
Step-4: Now locate Ease of Access located under Individual sync settings and turn on the toggle switch.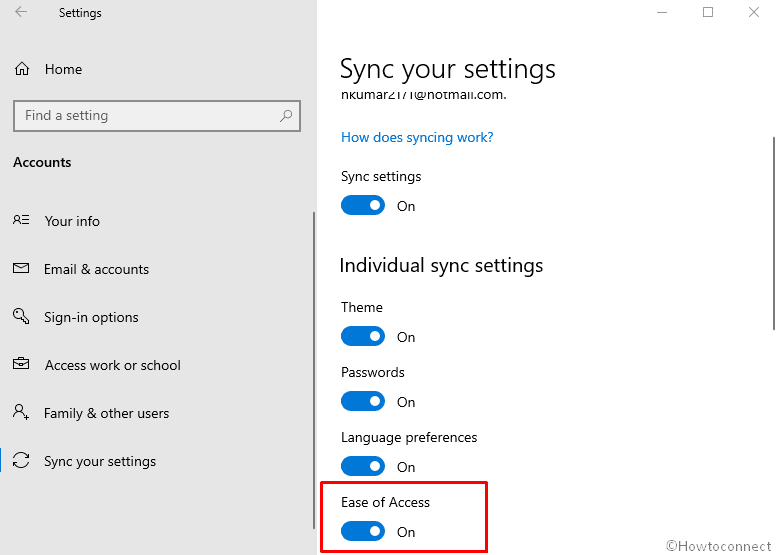 Once you sync Ease of access in Windows 10 you will experience the same settings for Narrator, Magnifier, High Contrast, Color Filter, Closed Caption, Speech, Keyboard, Eye Control and Mouse on different devices.
You are done!
In Sync your settings panel, you will view the first part in Individual Sync Settings is Theme. It includes a desktop background image, display color, sound or screen saver. Instead of choosing them severally, you can combine these elements with one single shot.
You may also read – Top 10 Coolest Windows 10 Themes
Then you will get the option Password Settings. It helps the users to sync the credential from the websites and Window apps.
Hereafter, the option is Language Preferences. This feature applies to the spelling dictionary or languages settings used in Windows 10.
The final one is Other Windows settings. This feature contains the list of installed applications, connected printer or adjusted size and color of a computer.
That's all. Isn't it super easy to sync Ease of Access in Windows 10! If you have any query about it, feel free to ask. We would love to help you further.