Wonderful Moment Themes is a super cool theme you can try if you feel bored using one Wallpaper on Windows 10. Its pictures are simple and light crafting your PC's Screen into more real. You can brighten your desktop with creative tablecloth pattern drawings with 4 sets of images. Most of all, Wonderful moment Themes is free of cost which you can download from Microsoft Store and apply after only 2 clicks.
Here in this article, we will discuss how to decorate the Desktop with these imaginative, tablecloth-pattern illustrations. This theme has been designed by artist Nico Tsai with 4-set of amazing and impressive wallpapers. If you want to access more themes you have to pay some amount. The Wonderful moment Themes for Windows 10 is lately released by Microsoft Corporation supported by united state English language. Developers of this app have ensured that this app is easily accessible by users having Microsoft Account. This Theme can be installed on 10 different Windows 10 devices with the same Microsoft user id.
How to download The Wonderful moment Themes for Windows 10
Here is how to download The Wonderful moment Themes for Windows 10 –
Step-1: At first open the Microsoft Store icon located on the taskbar. If this icon is not there, then you need to navigate to the Start Menu, search Store and then click on it.
Step-2: On the Microsoft store menu search box, type The Wonderful moment Themes then select the same result in the drop-down menu.
Step-3: You will see an Install button here just hit on it. It will automatically download Wonderful moment Themes for Windows 10.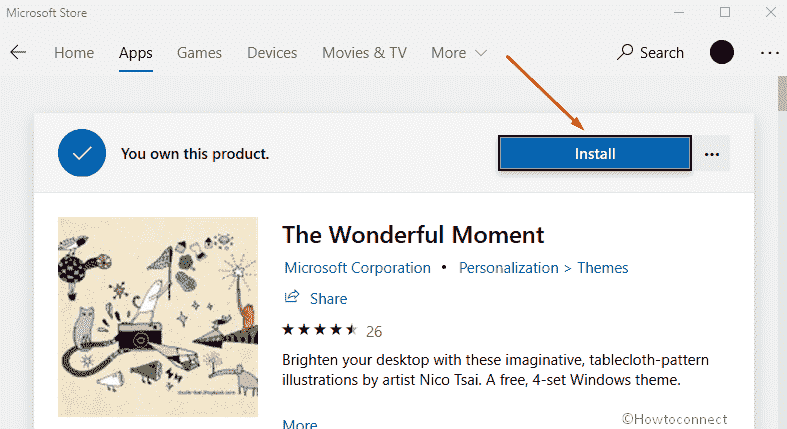 Step-4: Now wait for few minutes until the theme is downloaded. Once completed, move the cursor to the right pane then press on Apply button to install this app.
Step-5: Close/minimize the Microsoft Store then do a right-click on the blank area of the Desktop and select Personalize on the context menu.
Step-6: In the new window, select Themes from the left column. move. Now move to the right pane and click on The Wonderful moment Themes for Windows 10.
Step-7: At last, close the window and enjoy these 4 set of HD quality wallpapers on desktop.
Note- If you are unable to access Microsoft Store or download this app, click here to know 5 Ways to Reset Microsoft Store on Windows 10.
Minimum system requirements for using The Wonderful moment Themes for Windows 10
If you want to use these crafting themes on your Windows 10 PC, your system must meet these minimum requirements which are mentioned below –
At first, you must be using Windows 10 version 14951.0 or higher. It is compatible with both i.e. x86, and x64 ARM architecture. It occupies very less storage of your PC which is approx. 5.68 MB.