This Theme cannot be Applied to the Desktop' error dialog in Windows 10 commonly appears after the update of the OS. The issue seems very annoying as the same pop up prompts after every 45 to 50 minutes. In addition, when you set the native or another theme, the message box also starts showing. The instantaneous solution you often follow is clicking on the OK button to close it. But the permanent workaround is very easy as the main culprit behind this problem stays in Sync your setting and you need to only turn it off.
To improve cross device experience Windows 10 includes synchronization for themes, language preferences, Credentials, etc. This simply means that changing the theme on one device will automatically apply to the other system when you are login with the same account in both. The setting rather creates troubles here and you find the error – This Theme cannot be Applied to the Desktop in Windows 10.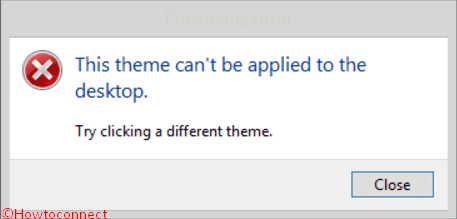 Scroll down to know more about the fix of this error.
This Theme cannot be Applied to the Desktop in Windows 10 Workarounds
Here you will get a solution with 2 ways. The first method is a shortcut to quickly fix and next, is alternative with elaboration to make you learn.
Shortcut and Quick Method
Step 1 – Click on the button underneath to directly access Sync your Settings section –

Step 2 – Focus to the right pane and toggle the Theme to turn it off below Individual sync settings.
Elaborated method
Step 1 – Outstretch the Settings app using the key combination Win+I. Once the application spreads out, locate Accounts option and press the same.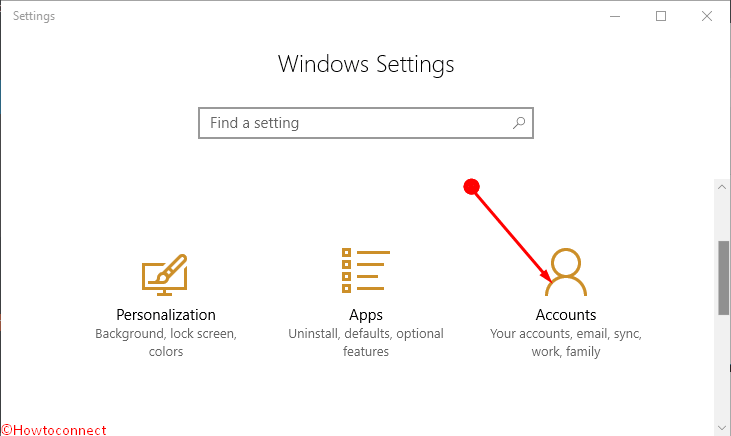 Step 2 – In the next window, head towards the left pane and click Sync your settings. Finally, Follow the Step 2 of the first method and drag the slider under Theme towards off.
Winding Up
This method will help in fixing the issue This Theme cannot be Applied to the Desktop in Windows 10. However, The error message suggests to 'Try clicking a different theme', but after using next one the pop up doesn't stop but bounce back in the same manner. Hopefully, you will stop the nuisance that the message creates. Do write to us in case you know any other fixes for the issue.
Repair any Windows problems such as Blue/Black Screen, DLL, Exe, application, Regisrty error and quickly recover system from issues using
Reimage
.