BTServer.exe Error mostly occurs in Windows 10 during the boot-up of a system or application. A dialog box suddenly rolls in with the statement – The application was unable to start correctly (with a stop code). Infrequently, this issue puts adverse effects on system performance and ends up with BSOD (Blue Screen of Death).
The BTServer.exe Error is commonly associated with Bluetooth Software but sometimes, because of the impact of EXE files, malware intruders use it as a method to attack your PC. Ignoring this error may seriously impact your computer so you will find here a few solutions that hopefully fix it.
Before we delve into the solutions, let us take a look at the causes that lead to the frequent occurrence of BTServer.exe Error in Windows 10.
Reasons –
1. BTServer.exe file has been accidentally deleted from the PC.
2. Virus attacks may damage this specific file and therefore the machine is unable to run it.
3. Another possibility is that the file is mistakenly overwritten by corrupt or older version.
4. Malware may have deleted the original file from the system and pretend itself as BTServer.exe.
So, let us go through the promising solutions that can help you to bypass this EXE error.
How to Fix BTServer.exe Error in Windows 10
Solution 1 – Uninstall and Reinstall Bluetooth Driver
Step 1 – Use keystrokes Windows + X and from the menu that appears on the PC screen, locate and select Device Manager.
Step 2 – When Device Manager shows up, go to Bluetooth. To expand it, click on its arrow on the left side or make a double-click on it.
Step 3 – Now, execute a right-click on the Realtek Bluetooth Adapter and out of a few options, choose Uninstall device.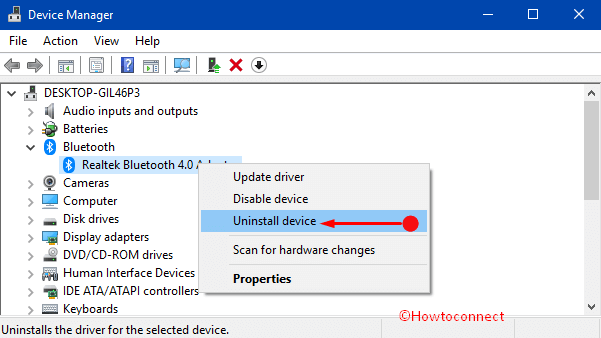 Step 4 – A confirmation dialog pops up on the PC screen, click Uninstall button to proceed. Restart Windows 10 PC and verify if BTServer.exe Error still occurs.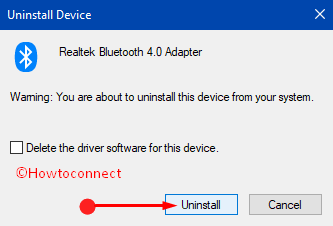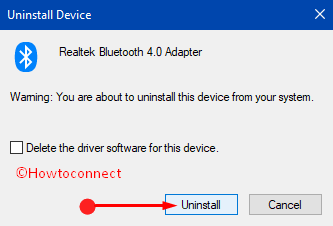 Step 5 – Lastly, upon the reboot, the OS automatically installs the Bluetooth driver.
Solution 2 – Install Pending Windows Updates
Step 1 – Launch Settings application by using hotkeys Windows logo + I. Alternatively, open Start and select Settings icon.
Step 2 – When several tabs come into view on the Settings home page, select Update & Security.
Step 3 – Windows Update page shows up on the PC screen. Shift to its corresponding right side and click the button namely Check for updates.
Step 4 – If there are any updates available, you can notice them on the page. If you see them, download and install the same and then check whether BTServer.exe Error continues to occur or not. For many, installing the pending updates fix this specific issue.
Solution 3 – Run Windows Defender Security Center
On many computers, the BTServer.exe Error in Windows 10 is related to the virus infection on the computer. The presence of malware often corrupt or even delete the EXE related files from your PC. Moreover, there is also a chance that the error you are facing is a component of the infection itself. So, run Windows Defender Security Center and give an attempt to eliminate all those viruses.
Step 1 – On Cortana text field, type defender and press Enter when Windows Defender Security Center shows up as the Best match.
Step 2 – Moving ahead, click the hamburger icon on the left sidebar to expand the menu. From the few options, click Virus & threat protection as shown in the given picture.
Step 3 – On its corresponding right-hand side, you can either click Quick scan button or can proceed with the Advanced scan. If you choose the latter one, you get three more options. There, go ahead with the Full scan.
Step 4 – At the end of the scan, this security tool informs you about the presence of malware and necessary action that needs to be taken to get rid of it.
In this concern, you may also like to Run Offline Scan from Window Defender Security Center in Windows 10.
As an alternative, if you are using any other trustworthy antivirus solution, give a shot to it to find out the culprit.
Solution 4 – System File Checker
Step 1 – Type cmd on Cortana and when you notice the same as the Best match, press the key combination Ctrl + Shift + Enter. It quickly evokes the UAC (user account control) prompt on the screen, click Yes.
Step 2 – Copy/paste or type in the below piece of command and press Enter to run it.
sfc /scannow
Step 3 – If it detects any corrupted files, it tries to repair it and eventually, in the end, it notifies you about the result.
To know more about this built-in tool, you may prefer to follow our guide on SFC /Scannow, DISM.Exe, CHKDSK Windows 10.
Conclusion
So, you see that these are the few promising solutions that can help you to overcome this specific BTServer.exe Error in Windows 10. Another small yet important tip to keep your PC free from such errors is to time and again run Disk Cleanup. If you are aware of some more workarounds to this error, do write them to us.
Repair any Windows problems such as Blue/Black Screen, DLL, Exe, application, Regisrty error and quickly recover system from issues using
Reimage
.