ICQ is an android application that works on all mobile platforms and helps user to connect with their friends and relatives by enabling them to make free calls, instant messaging and a lot more. ICQ is a free Android app and is available in different formats for mobile, tablet and PC. Calling with ICQ is an extra feature that is missing in other applications and with better sound quality it serves the purpose in an efficient manner. The app does not consume much space on your device.
Talking about the interface, the application has got a user-friendly and easy-to-understand functions which are quite intuitive. It has got all the features in a compact mode making it easier to deal with it. To download this app you can visit the Google play store and get it from there. When you are done with that you can launch the app by clicking on the icon from where you are directed to the main screen. A screenshot of the mains screen is shown below.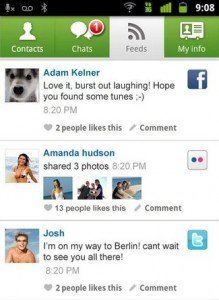 A link has also been provided at the last of this article to download ICQ Android App.
How To Use ICQ Android App
To use this ICQ Android App you have to create an account on this app or you can also log in from any other social networking site. After creating an account you can load contacts from your device. The app essentially performs four main operations namely calling, texting, sharing and Geo tagging which are the only requirement for a fully functional social networking app. Also, the app brings feed you're your various other accounts on other social networking sites and displays them in the feed section which is present at the top of the main screen. You can edit information about your profile in the My Info section. You can send photos and videos in the chat box with just a swap. You can also tell your friends about your location so that you can make a plan for a meeting or a gathering. If you have added contacts then you can click on the Chat option to find the other friends who are active at the same time. Also there is a silent night mode feature that you can use in case you wish to stay away from the app for a fixed interval of time. You can set the time interval and can become inactive for that period of time. You can also set ICQ Android App on the device main screen display to see the notifications.
Key Features Of ICQ Android App
Free talk with friend for an unlimited time.
Free Chat with friends.
Instant messaging via Facebook and other social sites.
Instant photo and video sharing in an easy and fast way.
Log in with either phone number or other accounts.
Geotagging option to display your location.
New wallpapers to be added in updated versions.
Bugs are fixed regularly and the current version can be updated.
Conclusions
The first view of ICQ Android App gives an appearance of a well-designed interface with so many features integrated in a minimal space. The app gives free calling facility that is unique in itself. For people who love to stay connected with their friends and the activities going on around them this app is a must for them.
Downloading Link: ICQ Android App