After buying Samsung Galaxy S4 the first task before you will be to choose useful and essential application for the new device. To choose and install essential and suitable app is a tough task for anyone from the hoard of daily releasing app crowd. I have tried to present the apps what you want exactly after purchasing  Samsung Galaxy S4.  To select top 10 apps for Samsung Galaxy S4 was not easy. After long exercise it is possible. These apps are 10 of the best apps for Samsung Galaxy S4. You can depend on this list of apps.
Top 10 Apps for Samsung Galaxy S4:
1. SwiftKey Keyboard:


Keyboard is the must have application for a device. To fulfill this need for your Samsung Galaxy S4, SwiftKey is the best option. It is a touchScreen Keyboard. SwiftKey is the top Android Keyboard seller on the Globe. This keyboard has 62 languages options. You can enable 3 languages at a time. At this time an advanced version of SwiftKey Keyboard is available that supports Gestures inputs, and next word prediction. Its user rating is very high. SwiftKey is a paid app and price is Rs. 99 or $1.83.
Download SwiftKey Keyboard for Android
2. Applock Master:

It will provide protection and security for Privacy of your Samsung Galaxy S4. When you buy a new Smartphone, friends, and relatives are eager to see your set. They can peep in your personal data. With Applock Master you will be able to protect your device by setting password or pattern for any app. You can set password manually. If you wish you can set automatic password. Not only that, you can retrieve password in easy way, if you have forgotten. It is totally free, and you can download it from Google Play by clicking the below given link.
Download  Applock Master
3. Overlays: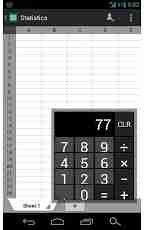 This App is for made for your convenience to act on your Samsung Galaxy S4. Overlays permits to float home screen or lock screen anywhere. You can use any app of your android from anywhere. For example, you are working with your calculator at the same time you can adjust your music settings, Bluetooth settings, Gmail setting, GPS, Audio or video effects or any other. Besides it, you can remove annoying pop ups that seem suddenly during handling your android phone. It is free app, but if you want to have pro version will have to pay.
Download Overlays
4. HD Widget
Samsung Galaxy S4 Android Phone is really awesome, but its beauty increases many times when you apply a charming theme. And for getting these themes you can download HD Widget app from Google Play Store. Really, HD widget presents stock of elegant, beautiful, charming and fascinating themes. New S4 device attracts everyone with these themes. It is a paid app and worth Rs. 99 or $1.83. So, you can download and install HD Widget by clicking the link placed below:
Download HD Widget

5. Mobile Antivirus Security Pro: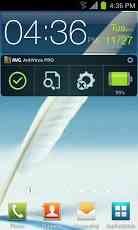 To protect your Samsung Galaxy S4 Android Phone an Antivirus is essential. In the group of Antivirus Apps Mobile Antivirus Security Pro is the best I understand. It is a premium app and secures your Android Mobile from viruses, spyware, and malware, spammer and hackers. It scans your phone's apps, files and settings regularly and helps you in searching your mobile phone through Google map if it is theft or lost. This app fastens your device and allow to search the web securely. It is worth Rs. 799/- or  $14.76 and may download by clicking the link underneath:
Download Mobile Antivirus Security Pro
6. Skype

After setting the apps for Keyboard, locking, making lock screen easy and smooth, applying awesome theme, assuring for security, we come to make calls, which is the primary work of a phone. As everyone knows Skype is a great app for making free audio and video calls. So you must install this app on your Samsung Galaxy S4. It allows to call through internet or wifi. You can send SMS and make video or voice call or record calls with a very high quality sound with Skype.
So download Skype after click the link underneath:
Download Skype
 7. Whatsapp Messenger

Whats App messenger is a prominent app for free messaging and chatting. The messenger uses internet or WiFi. With this app you can send audio and video messages, images, photos to your friends and family free of cost. You can also make Group chat. You can send offline messages too. With Whatsapp Messenger there is no need to log in or log out time and again. This is free for the first year and after using one year you will have to pay $.99 for te next year.
Download WhatsApp
8. UC Browser for Android
UC Browser is a lightning fast browser used in android devices. As fast it runs as it has download speed. Web surfing, Downloading , uploading are quite easy when you work with UC Browser for Android. UC browser follows advanced data compression technology. So you can save data by using this browser. It is the most used web browser ever. It is totally free.
Download UC Browser for Android
9. Dictionary.com

This is a helpful app for using dictionary. More than 20 lac words are found in this dictionary. In this dictionary, there are many of Synonyms, Antonyms, daily using words, spelling suggestions, phonetic pronunciations, Abbreviations are available. Dictionary.com app eases you when you find any difficulty related to english language. It is fa ree app and you can download it by clicking the link placed below:
Download Dictionary.com
1. Facebook App



Android app Facebook allows you to browse Facebook directly. You have not to depend on browser to visit Facebook. A Facebook icon will be seen on your lock screen for this. Click this icon and visit your Facebook. You can do Facebook activities as photos sharing, chat, upload, download etc with this app.
Download Facebook for Android