Diagnosing the health of your PC is very important in terms of both hardware and software. The Internet provides you a wide range of Benchmark Software for CPU and GPU that helps you in determining your computer's performance to get ultra-speed. These programs inform you about the device's capabilities and also guides you to troubleshoot and resolve issues.
Benchmarking is defined as a process to get a brief summary of the efficiency of a computer. One of the major things to keep in mind while carrying out this procedure is that it is not a simple one and should be done carefully. There are a number of applications present in the market to make your work simple and easy but we have brought a list of some of the best CPU and GPU benchmark apps precisely for Windows 10. Let's go ahead
Best Benchmark Software for CPU and GPU
Here is the list of Top 10 Best Benchmark Software for CPU and GPU respectively –
1] CPU – Z
CPU-Z is regarded as one of the best benchmarking software which sums up the data related to the Central Processing Unit such as name and number of the processor, codename, cache levels, package and more. It also helps a user to know about the specifications of the system's motherboard, RAM, graphics card, etc. This program is pretty famous in notifying a user about the internal frequency of its core including the memory frequency. Moreover, the software also gives the ability to the people to save this information in a TXT file for future reference.
2] Speccy
As the name suggests Speccy, this tool provides all the particulars regarding the specification of the computer, like that of RAM, CPU, graphics card, etc. One can also have knowledge about the real-time temperature of some important and critical components in a system. This information is to prevent some issues that the PC might experience at a certain point. Another interesting feature of the software is that it enables a user to save the scan results in an XML and a text file.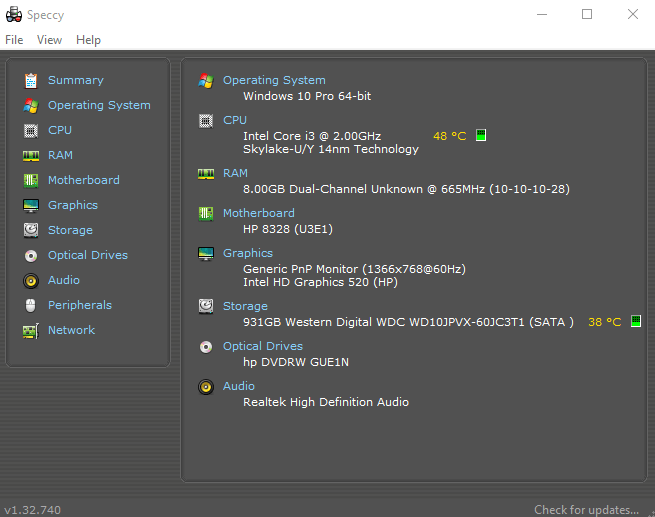 3] HW Monitor
HW Monitor is also among those popular names which fall into the category of the benchmark software CPU for Windows. This program checks each and every hardware component in a detailed way such as the consumption of power, speed of a fan, clock speed, utilization percentage, and more. Furthermore, the application uses thermal sensors to read modern CPUs, S.M.A.R.T for hard drive temperatures. But the best thing is that everything is free.
4] SiSoftware Sandra Lite
SiSoftware Sandra Lite is a free benchmarking tool for professionals who want a piece of complete and detailed information related to the specification of their system. This tool can help you to get the particulars about the sound card, Connections, PCle, ODBC, 1394/Firewire, memory, printers. Furthermore, it also tells you about the video adapter, AGP, PCI, chipsets, CPU, ports, Windows internals, USB2, network, etc. The tool can help you to compare your PC's component with other systems online, thus providing an idea about some upgradations that you can make.
5] CineBench
It is a multi-stage computer benchmarking program that gives us the data about PC's performance capacities. CineBench depends on Maxon's Cinema 4D which is basically utilized for 3D content creation in production houses and studios. Users regard it as one of the best tools for comparing graphics and CPU performance in Mac and Windows as well.
6] RealBench
RealBench is also a well-known benchmarking software which is a freeware application for Windows. You just need to carry out 3 tests in it – "LuxMark rendering, Handbrake h.264 video compression, and GIMP Image Editing" respectively and then run the benchmark to know the results. Each test as mentioned above studies and checks a series of computer subsystems and makes you accustomed to the outcome. This software also allows the user to upload their result on the website of RealBench such that it can be easily compared with other benchmarked hardware designs.
7] Fraps
When it comes to the best benchmarking software for CPU – Fraps is considered one of them. This free and user-friendly application helps the user to view and save frames per second (FPS). It is very much popular among gaming freaks as one can take a snapshot and record the gameplay as well. Moreover, it is also beneficial for testing hardware components and overclocking.
8] 3DMark
3DMark is one of the most attractive Benchmark Software GPU for overclockers and gamers. It is one of the products released by FutureMark, a software company making a benchmarking application for business and home users. There are 3 kinds of 3DMark version for downloading –
3D Mark – This category incorporates Fire Strike, Cloud Gate, Time Spy (Direct 12 Test) and Ice Storm tests.
3DMark 11 – It includes Deep Sea, High Temple Graphics tests, a Combined and a Physics test respectively.
3DMark Vantage – This includes 2 graphics checkings, they are CPU tests and 6 feature tests.
9] PassMark
PassMark is a popular name in the GPU benchmarking niche that provides tests like MonitorTest, MemTest86, KeyboardTest, BatteryMon, etc. You can download Performance Test from the "program's website for PC and GPU benchmarking" comprising of two types namely 2D and 3D graphics test. Bitmaps, Vectors, text, font and GUI element test comes under 2D, whereas "DirectCompute test", "OpenCL tests", "DirectX 9 to DirectX 12" in 4K resolution are categorized under 3D. This tool is compatible with Windows 7, 8, 10, Vista, Server 2012, 2008, 2003 and you can apply for a 30 day trial from the website.
10] Heaven UNIGINE
Heaven UNIGINE is one of the best GPU benchmarking and stress testing tools used worldwide for overclockers and gamers. It can let you know about the stability of the graphics card which will help the user to overclock it in a much better way. This software also helps the user to know about the quality of the graphics card cooler. Some of its features are multi-platform support, "hardware tessellation using DirectX", clock, and GPU temperature monitoring, etc. In addition, it is also available for Mac, Windows, and Linux for free but you need to invest money to get the advanced and pro version.
More Benchmark Software GPU and CPU
MSI Afterburner
MSI Afterburner is also a famous utility which helps the user to gather information on the hardware like clock speed, temperature, usage, etc. The tool also comes with an FPS counter which offers real-time info regarding the performance of the PC in an On-Screen Display. This app is completely free and can be used with a graphics card of all brands. Furthermore, it also provides the overclocking utility that eventually authorizes the user with complete control on the graphics card.
FutureMark Suite
FutureMark Suite is also among some of the good benchmarking tools for Windows. Many users report that running this program before and after making some certain changes in the PC can show all the stability and setup issues in real-time. So, one can compare the results and can choose the best components for their system. In addition, this software also helps in calculating the effects of upgrading and overclocking on the computer.
UserBenchmark
UserBenchmark is a small program that helps in measuring the performance of some important components like graphics card, processor, hard drive, memory, and USB drive. To track GPU it ascertains the compelling 3D speed which is a proportion of execution in modern games. Apart from that it also helps in making a comparison with other graphics cards available.
This is all we have regarding the best GPU benchmarking software available. Now it's your duty to benchmark and compare your CPU's and GPU's performance with other systems and make the desired changes if required.
That's all!!!