Here in this article, we will learn about different Hotspot creator software for Windows 10. It happens most of the time that we need internet connectivity on your mobile or Tablets temporarily. In these scenarios, having access to some WiFi hotspot is the best option to get a connection in a simple way. However, to do this, you need to have an effective Hotspot Creator application installed on your PC.
Let's learn about 10 different Hotspot creators. These Softwares are easy to set-up and completely free. These Softwares let you create your own hotspot using which you can share your network connectivity to others mobiles, Tablets, etc. quite in a few seconds.  Using these, you could also restrict maximum number of clients being added to your network, automatic detection of network, and many more.  Let's look at them. You may like to read: Create Wireless Ad Hoc Internet Connection on Windows 10
Top 10 Hotspot Network Creators For Windows 10
1. Connectify Hotspot
Connectify Hotspot is one of the best WiFi network creator apps for PC. This is lightweight software that allows you to create a new network connection in a few seconds once you click on Start Hotspot. This application provides you with a step-by-step procedure on how to install this app, creation of new Hotspot, detection of network connection automatically. Although the free version of this app does not allow you to change the default name of created hotspot, however, configuration and specification of new passwords are allowed.
Note that at first, all you have to do is to check whether everything is in order or not and when it is done, just click on the Start Hotspot button as everything is already set and done. All those clients which are added to your WiFi Hotspot would be shown on the top. You can create a password to your Hotspot so that only those who is aware of the password get access to this WiFi Hotspot.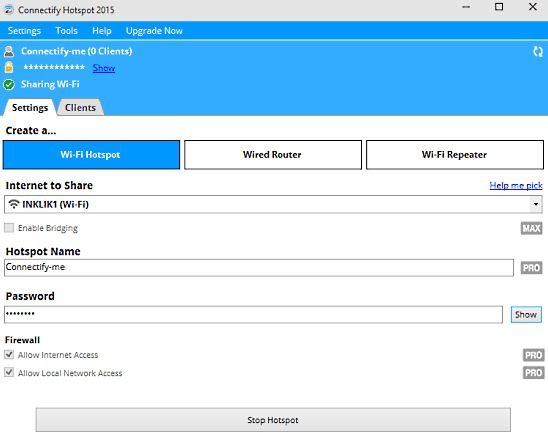 2. Wi-Host
Wi-Host is again a very pretty WiFi Hotspots creator. It is a very simple and easy to use application. It works in conjunction with Windows' backed-in Internet Connection Sharing feature. Using this software, you can set network hotspots in seconds. Running this software is very easy and straightforward. When you open this software on your PC, it will automatically detect different networks to which your computer is connected. All you have to do is to click on the Setup New Hosted Network tab and fill down different options like Hotspot name, security key, and authentication type.
Once you specify all options, hit the Setup Network button and then Click on the Start Hosted Network button. This will create the network hotspot with the specified name. It should be noted that you need to enable the Internet Connection Sharing option in network settings to create your network hotspot. The main feature of this software is that it is portable i.e. you can move this from one place to another.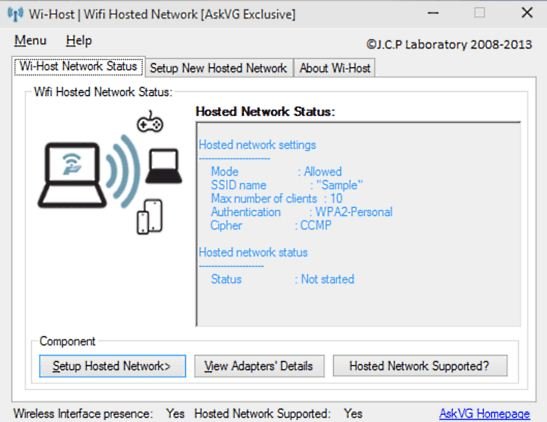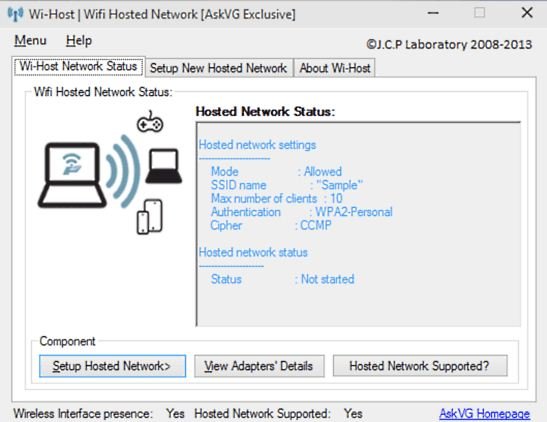 3. mHotspot
mHotspot is considered to be one of the best network creator applications. It merely takes a few seconds to convert your laptop into a hotspot. This software does not provide you with many options however whatever options are given to you are enough. This consists of simple UI which makes it even easier to use. All it requires is to provide it a Hotspot name and an authentication password.  This software also lets you fix the maximum number of clients along with changing the Internet Source. Once everything is done, just hit the Start Hotspot button and the rest will be taken care by mHotspot itself. This software consists of an information panel at the bottom. Using this panel you can view the number of clients connected to your network, the amount of data sent or received as well as the downloading/ uploading speeds. This is indeed worth having app.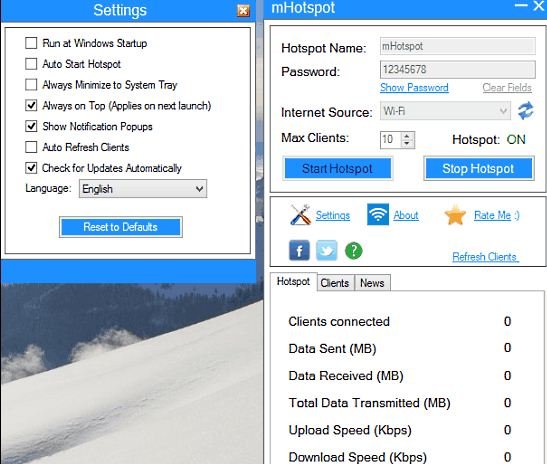 Download mHotspot
4. My Public WiFi
My Public WiFi is considered to be the easiest hotspot originator program for Windows 10 among all other hotspot creator programs out there. Just like other hotspots, it sets up new hotspots in a few seconds. There are no such complications involved in this app which are pretty possible in big apps like Connectify Me, Wi-Host, etc. When you start this app, go to the settings tab. Here, select the Automatic Hotspot creation option. Just below this option, there are two specifications present out there which you need to fill up. They are Network name and the Network Key. Both of these could be changed by you at any point of time. Once you are done with it checks against the Enable Internet sharing option and then click on Setup and Start Hotspot. All those devices which are connected to this app are shown in the Clients tab present adjacent to the Settings tab. The Management tab presents sideways is there to set options like URL logging, file sharing and many more.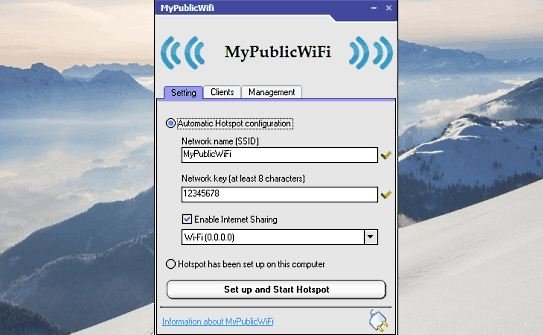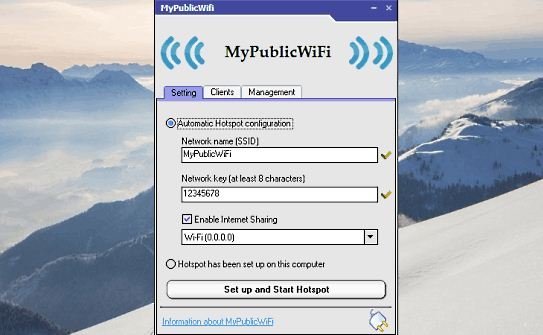 5. LionScripts WiFi Hotspot Creator
LionScripts WiFi Hotspot Creator is a lightweight application and it is based on the concept of minimalism to a whole new level. The user interface of this app comprises only four action buttons and an intrusive ad at the right. This ad might frustrate you a little bit.  It consists of nothing if you compare this app with all other apps mentioned above. The four buttons provided to you help you start/stop/restart the created hotspot and quit the application. There are no fancy icons, no animations, and nothing is present on this app.
To use this app, just go to File à Settings. Here in the settings panel, you can find a minimal configuration box where you need to specify the Hotspot name, and authentication password. At last, press the update button and you are all set. The application will prompt you to restart the Hotspot. Click on Restart button and you are done.
Download LionScripts WiFi Hotspot creator
6. Winhotspot
This is an absolutely free virtual WiFi router application you will prefer to use. After installing this software, mere a single click is sufficient to share network with Android or iOS devices. WinHotspot is compatible with the latest version of Windows and. Apart from creating WiFi you can scan for internet and manage Bandwidth being used by the connected devices.
7. Virtual Router
Virtual Router is an open source application and absolutely free tool which converts your Windows 10 computer to WiFi Hotspot. It has a clutter-free interface. After installation, you need just to set a username and password and you are ready to use Virtual Router. You can use it anywhere and anytime.
Download Virtual Router
8. MaryFi
MaryWiFi is a free tool and supports to the creation of WiFi Hotspot quite easily. This also comprises a minimal UI and supports your Windows 10 Computer. One striking feature of Mary WiFi is when your computer is not getting access to internet it can access shared folders with another computer.
9. Wi-Fi Hotspot Creator Assistant
This is a Windows Store app you can install on your Windows 10. Although it is a paid app, but its cost is minimal (1.49$). The Assistant works perfectly in the native environment and creates WiFi Hotspot in no time.
Wi-Fi Hotspot Creator Assistant
10. MyWiFi Router
This is again a free to use WiFi Hotspot Creator software. You can comfortably manage Hotspot while you are sharing with mobile devices. Client management is a special feature with which you can control the internet speed you are accessing from your Windows 10 Computer. Even you are able to blacklist the user who steals your internet. You can share video from your mobile devices. When you share a video with another device an IP address is provided to the device accessing which he can access the video.
MyWiFi Router
Conclusion
The applications mentioned above are very simple and easy to use. These apps are perfect for creating network sharing hotspots. Use them and tell us your views on these apps in the comment box.