Android is quite popular among young people, and since many of us own Android smartphone, we are always on lookout for top Android games that we may enjoy. So given below is a list of some recently introduced Android games that are worth giving a try. Most of them are paid games so you might need to pay some money to buy them. But they are definitely worth their cost.
Related Post: Top 10 PC Games with Download links
Top 10 Latest Android Games
The Room
Atmospheric puzzler 'The Room' was earlier on the iOS platform. There, the game crossed the 1m sales mark. This proves the immense popularity of the game. Having been ported to the Android platform recently, the game is available on the Google Play store. It is about a 3D room where you need to solve puzzles using touchscreen controls. The game costs £1.49.
Click The Room to download
I AM PLAYR (Free)

I am player is a social football game that has its own devoted fan following of community players, both on the web and the smartphones. On the Android, it has been introduced as a 'companion' game. If you happen to play the game online then you can use the Android version to play some practice matches, earn match fitness points which you can use when playing online.
Click I AM PLAYR to download

Disney Fairies
Disney Fairies is Definitely not a game for matures but you could make your little daughter/son or brother/sister happy with this game that involves Disney's fairy characters as Tinker Bell. It is basically a hidden object game where they will unlock parts of story as they go ahead in the game, completing levels in a time. It costs £0.65.
Click Disney Fairies to download
Tiny Legends: Heroes (Free)


Trinity Interactive presents this fantasy game full of characters with swords as their weapon. You will battle monsters of various kinds, attack and loot dungeons. You do all this with a team of heroes that move through 70 floors or levels of the game.
Click Tiny Legends: Heroes to download
Worm 2: Armageddon
Team 17 introduces this sequel to their game WORMS on the Google Play. Action happens between worms with over 30 single player missions and pass and play multiplayer modes. It costs £2.99.
Click Worm 2: Armageddon to download
Dr. Panda's Beauty Saloon
The Dr.Panda character is very popular with children. This game is also meant for children where the children can play in a virtual beauty salon, dressing customers, painting their faces and cutting their nails. The game costs £1.31.
Click Dr. Panda's Beauty Saloon to download
Mr. Frog The Neighbor's Dog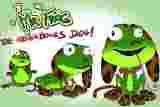 This game is interesting. Primarily meant for children it is about a frog who pretends to be a dog just to enrage the neighbor next door. This game mixes mini games, animation and voice narration too. It costs £0.69.
Click Mr. Frog The Neighbor's Dog to download
Hills of Glory 3D (Free)
A tower defense game, your job here is to win the second world war by defending a bunker against all attacks while using up your military resources. The 3D graphics are good and the 21 missions of the game keep you glued to the screen.
Click Hills of Glory 3D to download
REPULZE
A game by the Pixelbite developers (who produced Reckless Racing), it is about a futuristic race between hovercraft. It is inspired by the famous reality show WIPEOUT. It has seven hovercraft to choose from and 24 tracks to clear. This game costs £1.99.
Click Repulze to download
Max Payne
This is an awarded game in which Max is a character who is hopeless and struggle to win battle. Max Payne worth Rs. 170.
Click Max Payne to download.